New Bern was founded all the way back in 1710, making it the second-oldest town in the state of North Carolina.
It was originally a German and Swiss settlement, and it was named after Bern, Switzerland which is where the town's founder was from.
It's the home of Tryon Palace, which is North Carolina's first capital.
In case you were wondering, "Bern" is an old Germanic word for bear, which is the symbol of both Bern, Switzerland and New Bern, North Carolina.
Here are the best things to do in New Bern, NC.
The Birthplace of Pepsi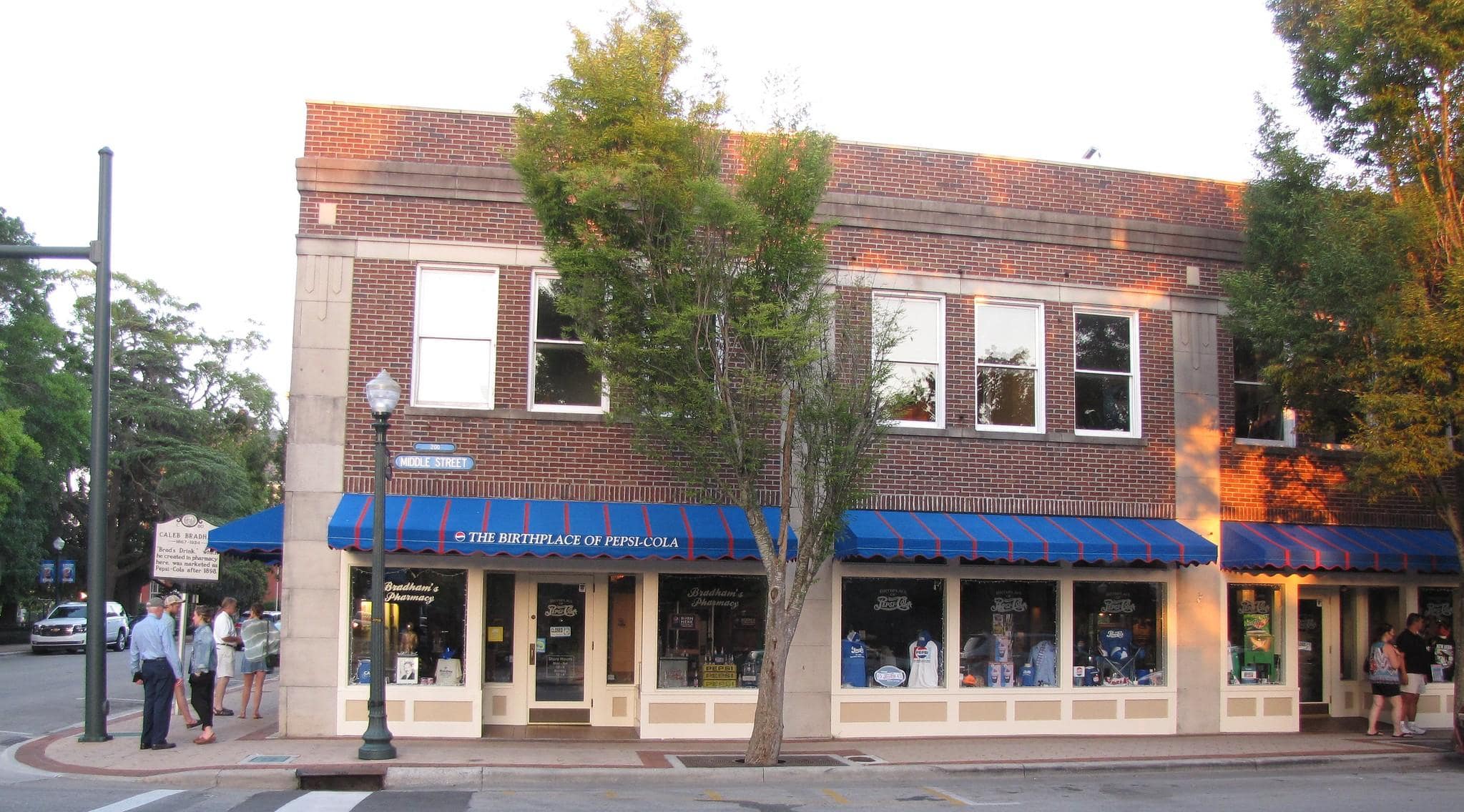 If you're from out of town, you should take note not to ask for a Coke in New Bern. It's the birthplace of Pepsi, and locals are quite proud of the title.
It was first concocted in 1893 at the New Bern Drug Store by Caleb Bradham, on the corner of Pollock Street and Middle Street.
Today, you can go to "The Pepsi Store", which resides in the drugstore's place. It's essentially a museum, souvenir shop and soda shop all in one.
Antique collectors will be interested to learn that there are antique shops for several blocks around the Pepsi Store that sell antique bottles and merchandise, too.
Address: 256 Middle St, New Bern, NC 28560, United States
Swift Creek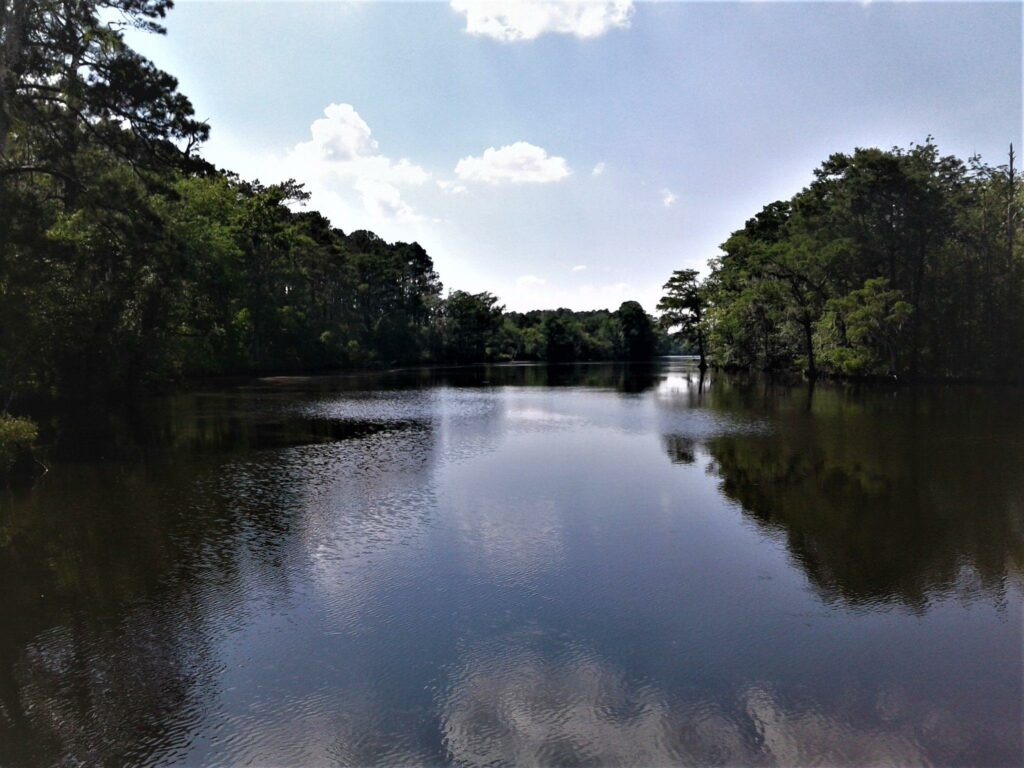 If you're an angler, then you'll want to check out Swift Creek, which is around 6 and a half miles outside New Bern.
You'll find American shad, crappie, catfish, hickory shad, largemouth bass, striped bass, sunfish and white perch there.
Head to the Cool Spring Boat Ramp, where you can enjoy amenities like parking, a dock, a marina, fuel, food, restrooms, and a campground.
And if you want more camping options, the Flanners Beach Campground and the Neuse River Recreation Area are good options, but the New Bern KOA is a more luxurious choice.
Pro tip: while it's popular to visit the creeks and rivers around New Bern in the summer, the best fishing is in the spring and fall, when hotel and camping rates are lower, as well.
John Wright Stanly House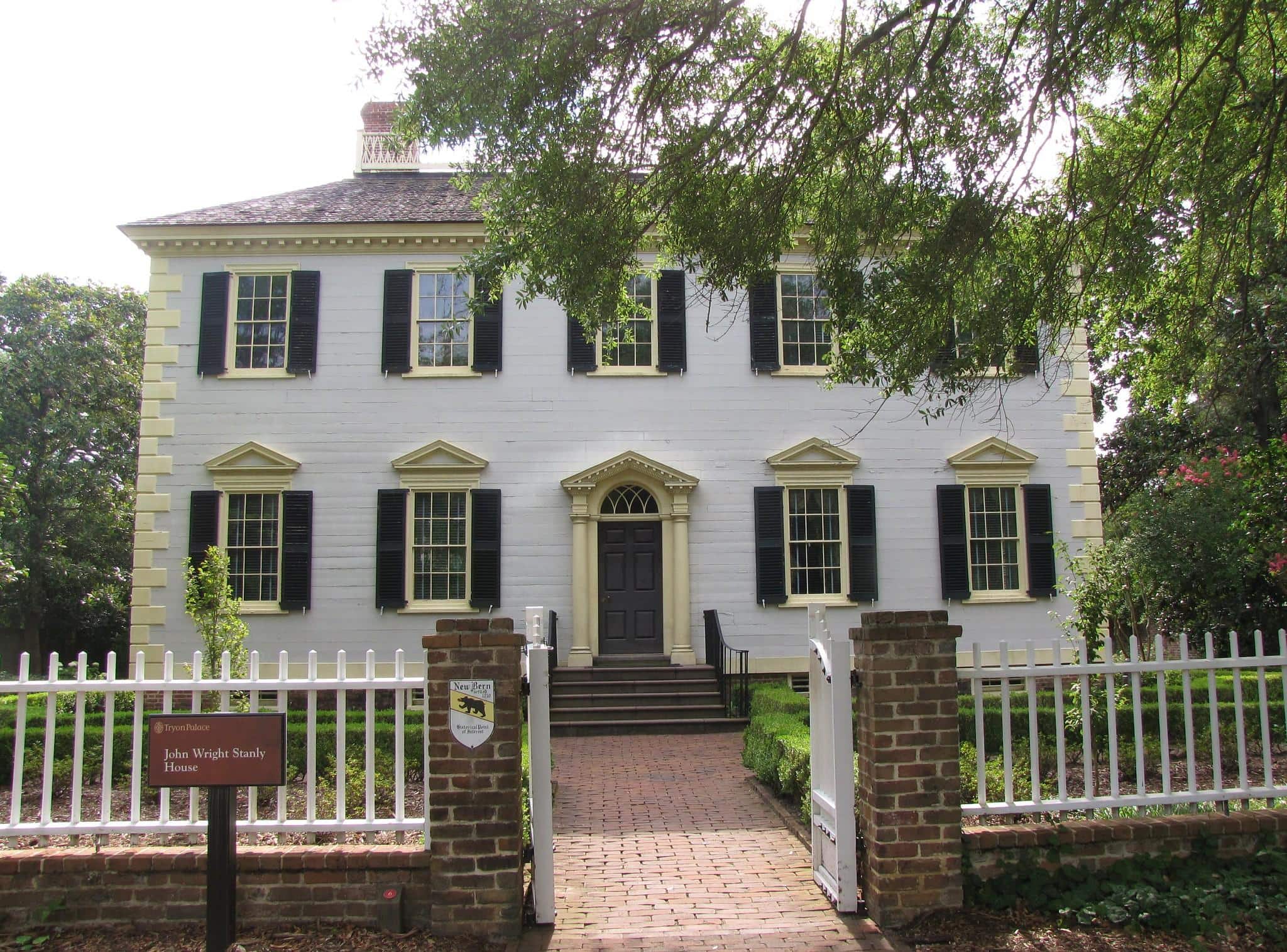 This historic house was built around 1780 for John Wright Stanly, who was an important and well-known resident of New Bern.
The designer of Tryon Palace, the state's first capital, is thought to have designed Stanly House, as well.
The whole thing is made from pine wood, and it's a great example of Southern Georgian architecture.
While you currently can't check out the inside of Stanly House, you can stroll through the gardens because they're open to the public.
Address: 307 George St, New Bern, NC 28562, United States
Lawson Creek Park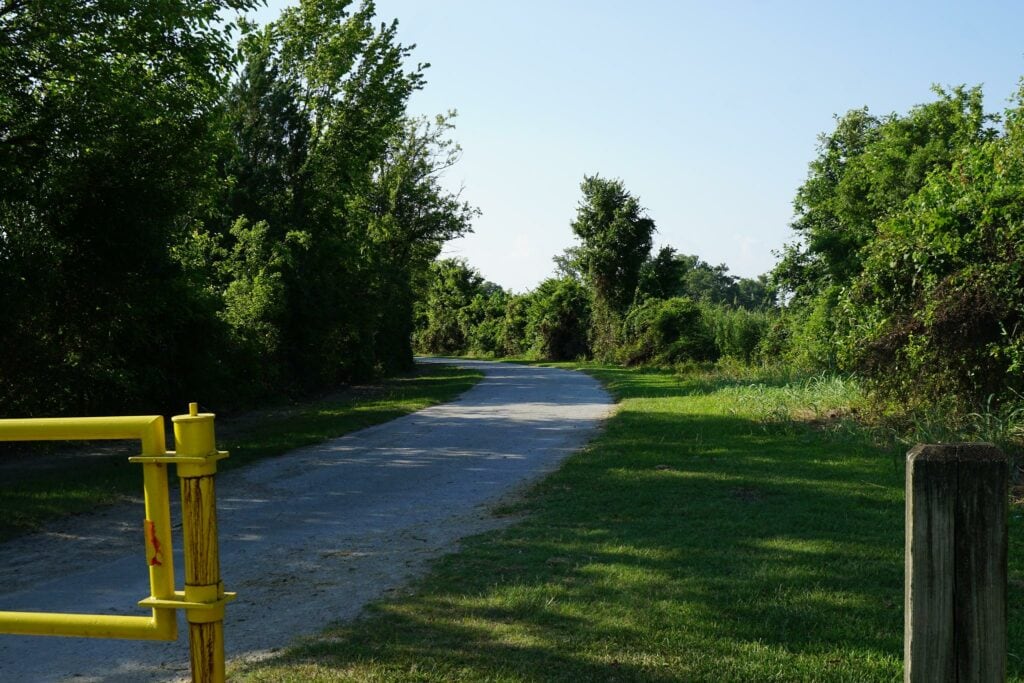 Just west of Tryon Palace is Lawson Creek Park.
This place is huge, and takes up 140 acres, and has tons of features and amenities, not the least of which is the creek itself.
While it's far enough out to make it not feel like an urban environment, it's got enough amenities to make a comfortable visit.
It's a great place to get in the water because it has two boat launches, fishing piers, and it's a great place for kayaking.
The boardwalk lines the perimeter of the water and also leads to a nature trail that leads around the marshland before leading back to the entrance of the park.
There are restrooms, shelters, picnic areas, grills for cooking, two boat launches, as well as two fishing piers and a handicap fishing pier, soccer fields, a handicap walkway, and a .8 mile walking trail.
There are many different types of fish, birds and other wildlife here.
If you plan your trip for the 4th of July, you can check out the fireworks show, which is usually held at Lawson Creek Park and features food, live music, games and more family-friendly fun.
Address: 1309 Country Club Rd, New Bern, NC 28560, United States
U.S. National Cemetery-New Bern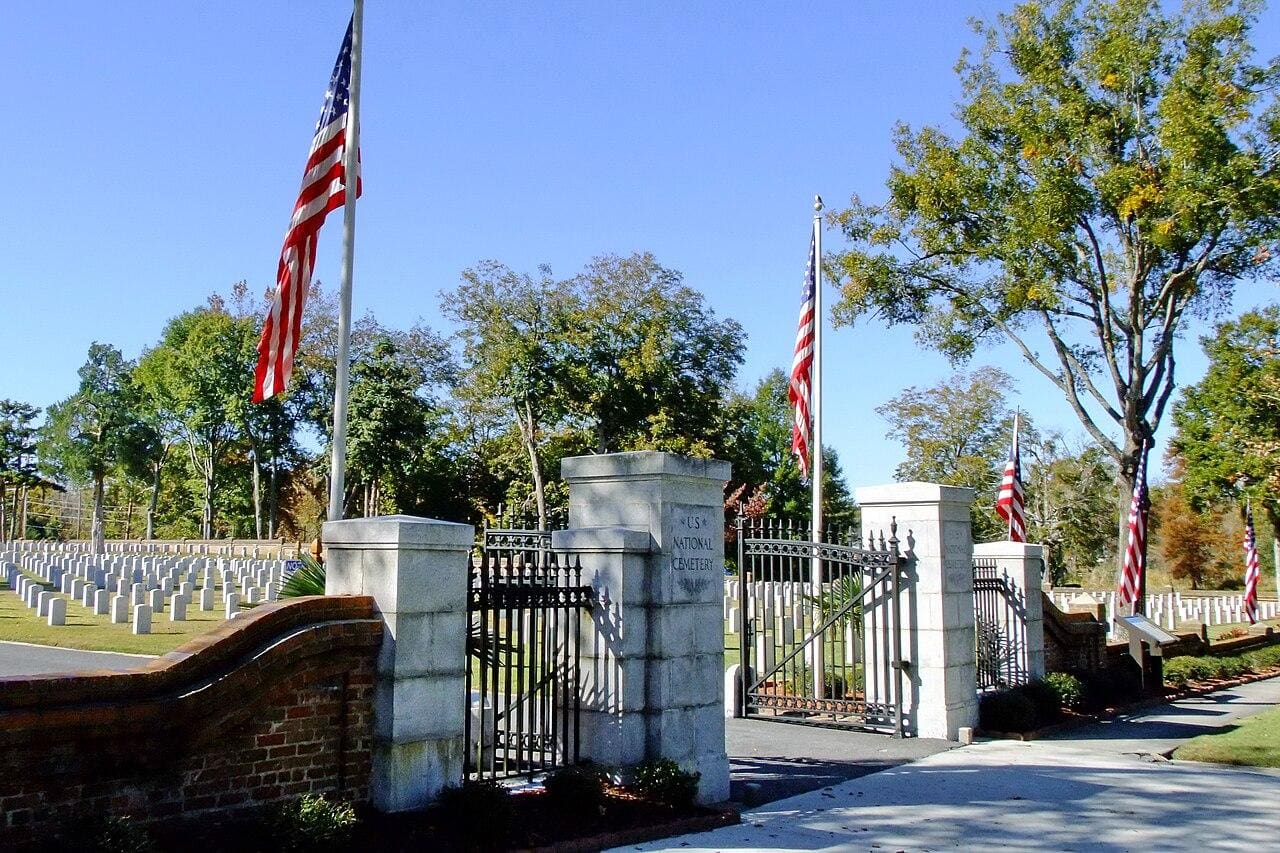 The New Bern National Cemetery was established in 1867 near the Neuse River. Many Union soldiers were laid to rest in the cemetery.
Many of them fought in battles such as the Battle for New Bern, and others that broke out all over the coast of North Carolina.
There are three hundred Black soldiers in the cemetery, and over 1,050 unknown soldiers.
The cemetery stopped taking interments in 1996, and to date there are over 6,500 people resting in the 7.7 acre New Bern National Cemetery.
Address: 1711 National Ave, New Bern, NC 28560, United States
Episcopal Church New Bern Nc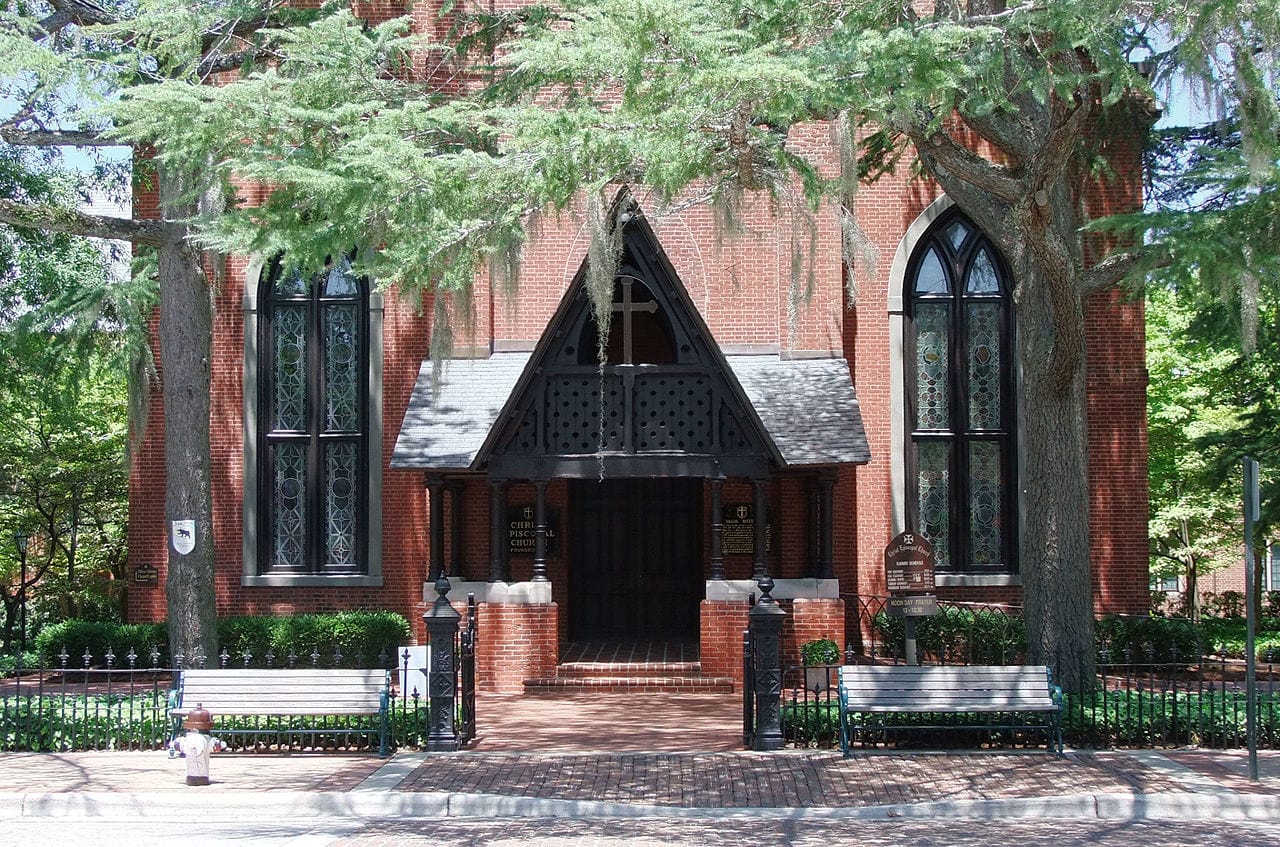 It wasn't long after the establishment of New Bern that the first church building began construction in 1739.
They baked and formed 10,000 bricks for the building, which was constructed at the corner of Middle Street and Pollock Street.
The church was completed somewhere around 1750, and it's seen a lot over the years.
For instance, its first rector was Rev. James Reed, and when the American Revolution broke out, he remained loyal to the British government, so the vestry suspended both him and his salary.
Several church buildings have been built and re-built on the property, but in 1967 they dug up the colonial-era church and found that the same bricks that were used to build Tryon Palace were used to build the Episcopal Church.
Address: 320 Pollock St, New Bern, NC 28560, United States
Tryon Palace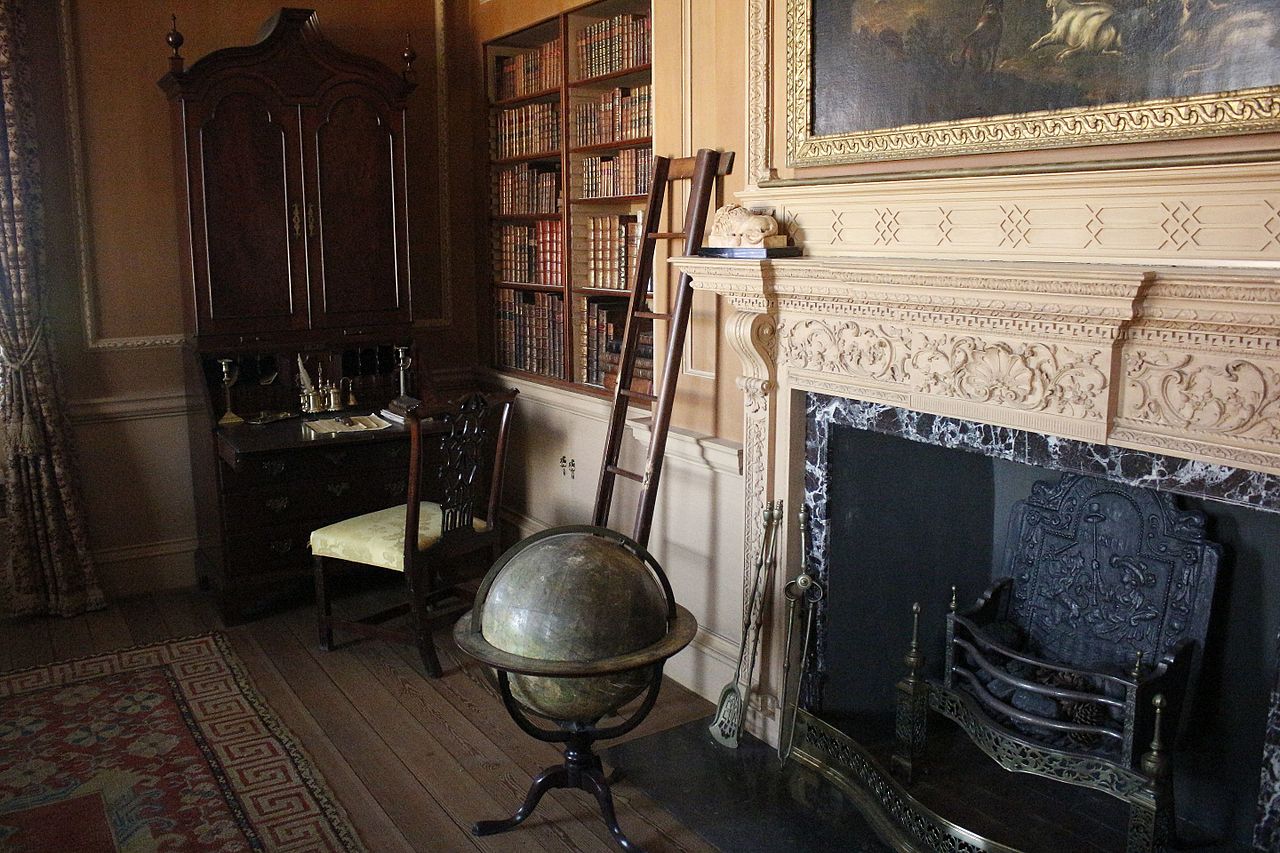 Tryon Palace was the lavish first state capital of North Carolina- twice!
It was the capital during colonial rule before the revolution, and after the revolution, as well.
Today it's host to more than 18 different exhibits and galleries, as well as numerous historic homes, like the Stanly House, gorgeous palace gardens and grounds, the New Bern Academy Museum, and of course the palace itself.
Tours are available nearly every 30 minutes throughout the day, and they take around 30 minutes to complete.
Address: 529 S Front St, New Bern, NC 28562, United States
New Bern Fireman's Museum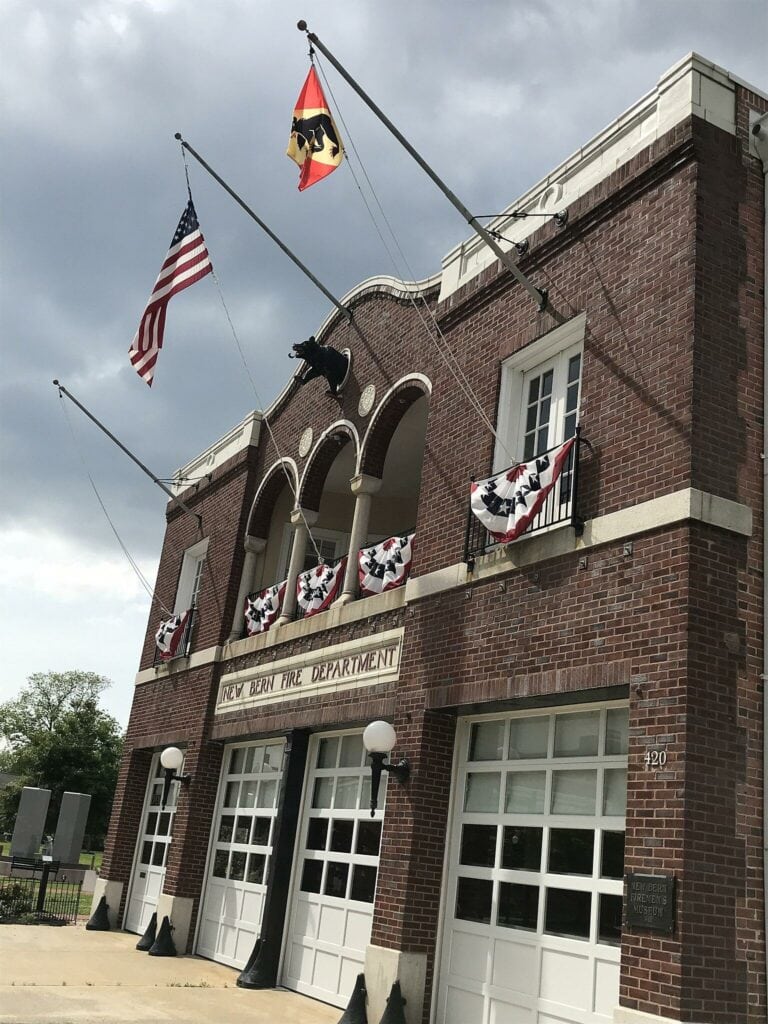 The New Bern Fire Department was originally the "Atlantic Hook & Ladder Company", which was a fraternal organization, and became the first fire department in North Carolina.
It wasn't active during the Civil War because most of the firemen were off fighting in the war.
The two-story 1928 station house has been masterfully restored and turned into a museum.
You can catch several events and things, like their fundraising event "BBQ in Blue Jeans", and you can call ahead to schedule a tour.
Address: 420 Broad St, New Bern, NC 28560, United States
New Bern Sunset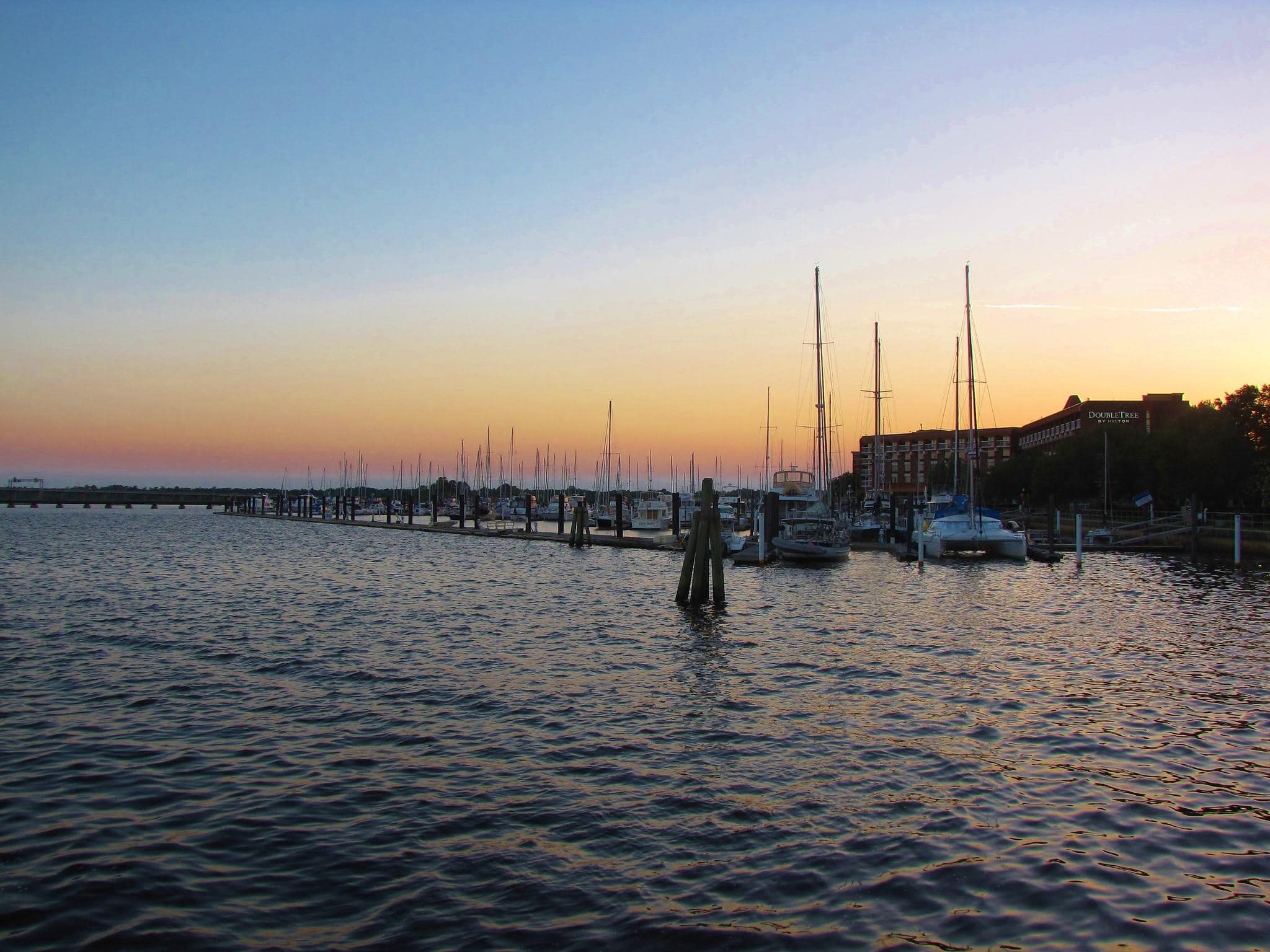 The gorgeous landscape surrounding New Bern means that you have the opportunity to watch some stunning sunsets.
Of course, when you think "pretty sunset", you might think water, and that's definitely a possibility in New Bern.
Head to Union Point Park, Lawson Creek Park, or Swift Creek. You could get out on the water in a boat for prime viewing.
If you go to Upper Broad Creek or Brices Creek, they're typically less populated and more wooded, which makes for uninterrupted appreciation of nature.
And many of New Bern's hotels, resorts and vacation rental accommodations are on the water, which means you don't have to go far to find an excellent view!
New Bern Civil War Battlefield Park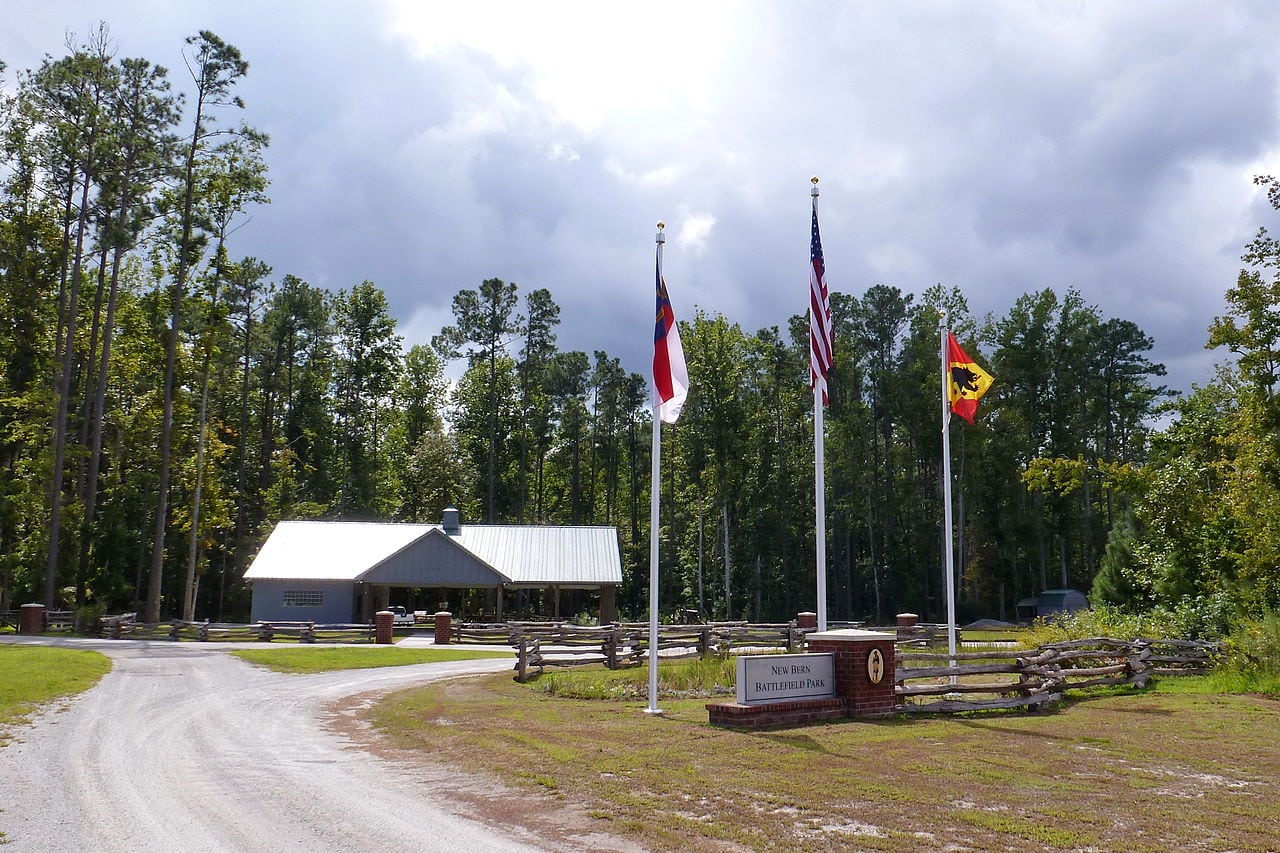 The New Bern Battlefield Park is located on the historic location that includes a little over 30 acres of the battlefield of the Battle of New Bern, on March 14, 1862.
Not only have great efforts been taken to preserve the land, but they've also worked to make the visitor experience more interesting.
To that effort, you can now take a "History Walk" where you can read 35 panels that provide information about the battle and its impact on residents.
There's also a gateway plaza with a big concrete map that indicates key locations you may want to check out.
And there's now a memorial monument that weighs 11.5 tons, made of granite. Make sure to check out the Visitor's Center, too, especially if you want a guided tour.
Address: 300 Battlefield Trail, New Bern, NC 28560, United States
Bear Plaza in New Bern, NC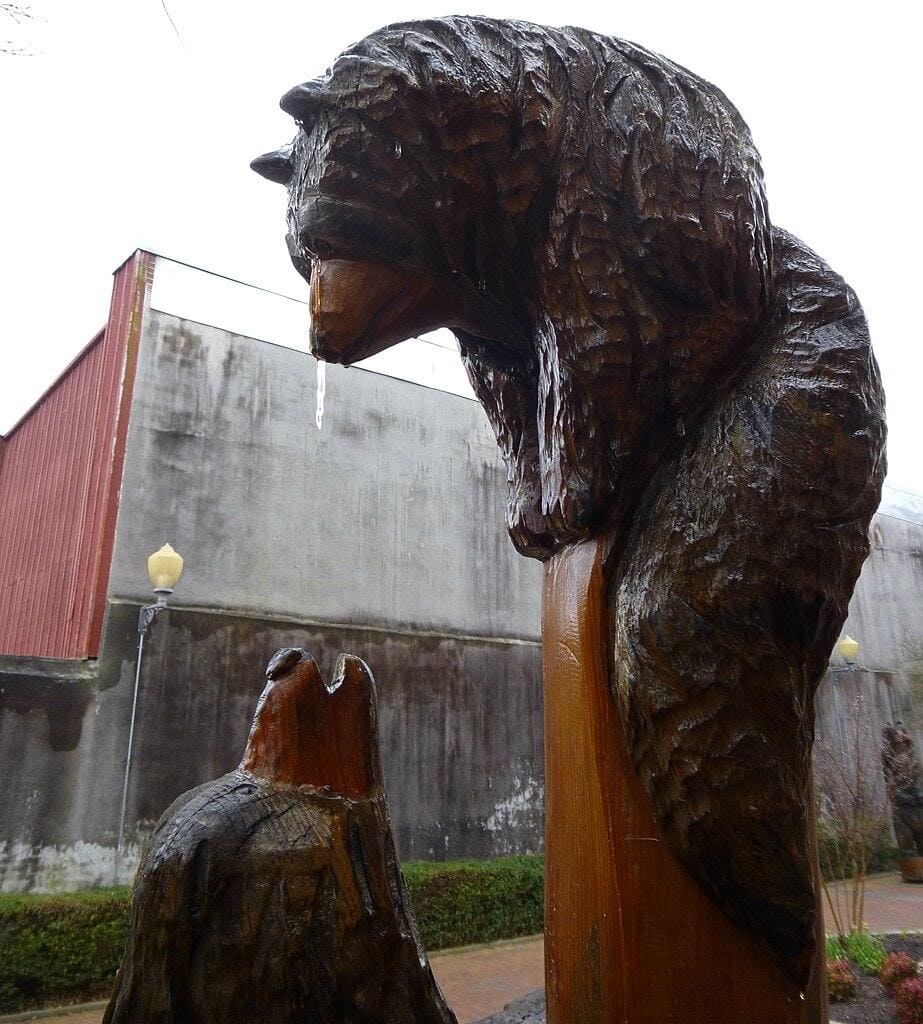 In downtown New Bern, you'll find a plaza with benches and a gorgeously manicured garden that's unkempt by the New Bern Garden Club.
But the main attraction of Bear Plaza are the three gigantic hand-carved wooden bear statues.
Why bears? Well, bears are the symbol of New Bern.
And during the holiday season, they set up a cute little house for kids to go visit Santa and take pictures, aptly called the "Santa House".
Address: 236 Middle St, New Bern, NC 28560, United States
Union Point Park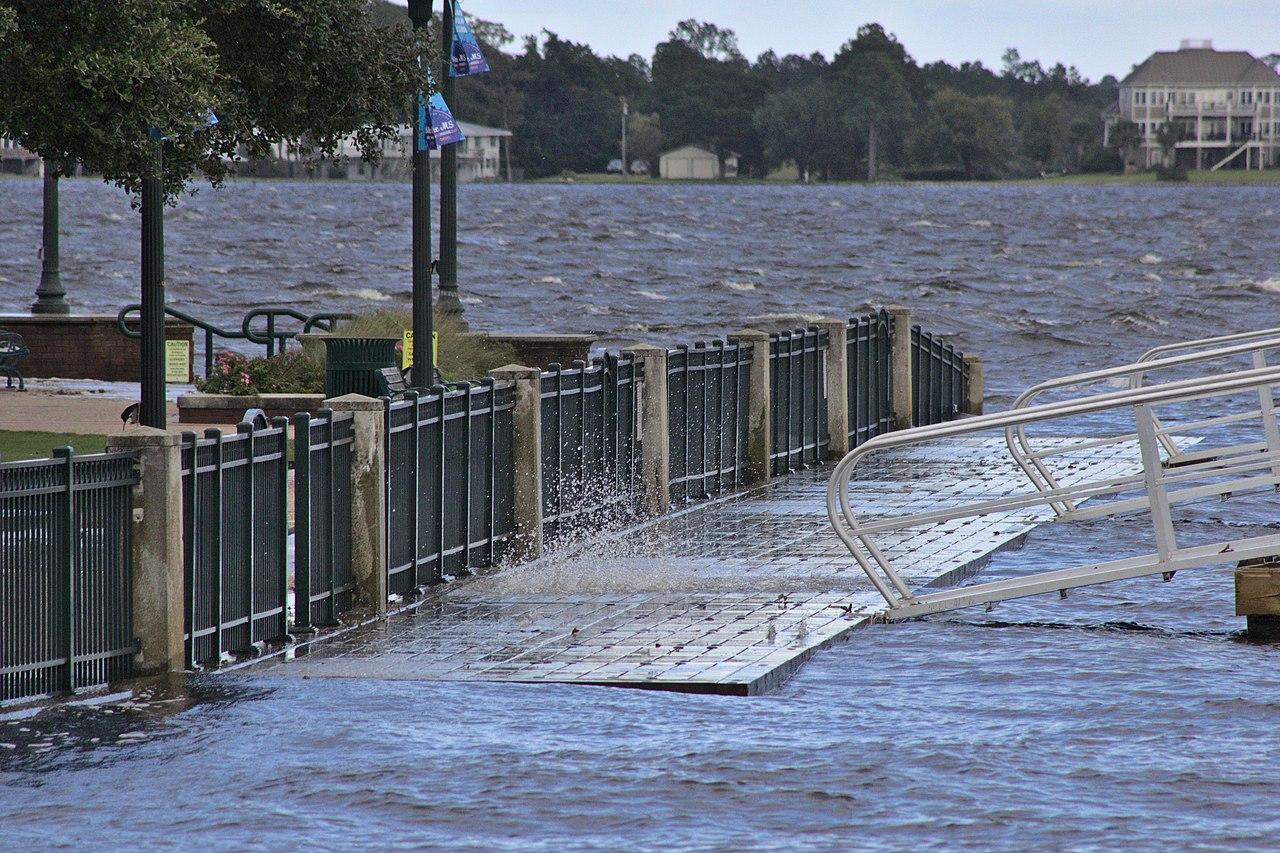 If you're enjoying a day of shopping, antiquing and dining out downtown, you should take a break and make your way over to Union Point Park.
It sits on 6 acres, and it's all surrounded by water.
The benches, picnic tables, gazebo and other fixtures provide you with an excellent place to relax while enjoying the beautiful scenic natural backdrop.
There are playground features for the kids, and you can even enjoy a stroll down by the water.
Address: 210 E Front St, New Bern, NC 28560, United States
Bear City Fudge Company
For 20 years, the Bear City Fudge Company has been the highlight of New Bern for confectionery enthusiasts, and anyone with a sweet tooth.
They've got a wide selection of products that include fudge, of course, candy, ice cream, saltwater taffy, pralines and chocolates.
They've got a load of drinks, too, like Italian sodas, fresh juices, coffee, slushes, tea, and more.
Check out Bear City's website for the fudge-of-the-month!
Address: 236C Middle St, New Bern, NC 28560, United States
International Paper Mill New Bern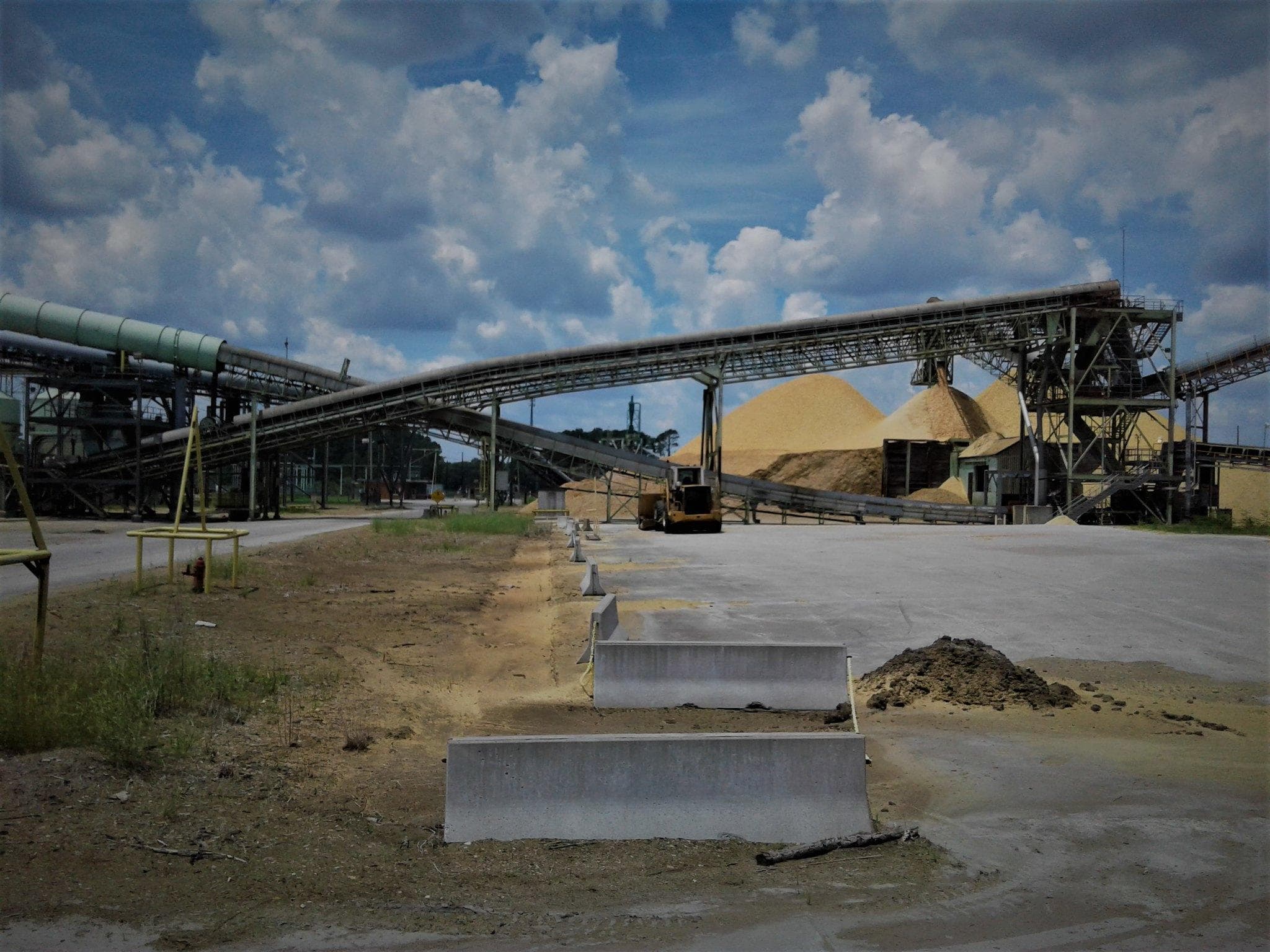 The International Paper Mill in New Bern came about when International Paper, which was founded in 1898, bought the New Bern Mill back in 2016.
Since the acquisition, the company has spent more than $500,000, both in money and donations, in various investments throughout Craven and its surrounding counties.
It also gives hundreds of thousands of dollars to non-profits and local businesses in the area every year.
It's a major source of jobs in the area, and a driving factor in the state's economy. And you can tour the mill.
Address: 1785 Weyerhaeuser Rd, Vanceboro, NC 28586, United States
Conclusion
New Bern is a gorgeous place to take in natural scenery at the different parks and rivers that surround the town.
It's also a town full of history, having been founded in 1710 and the location of battlefields, historic buildings, and more.
Outdoor enthusiasts, history buffs, foodies, and kids will all find some fun in New Bern.
Let us know which of these things you chose to do on your visit to New Bern!