South Carolina is indeed a gorgeous state, the hospitality here makes you feel at home in no time and you would definitely revisit this state to make more amazing memories.
The mysterious mountains, the rejuvenating beaches and the mystical history of this place are worth seeing and you probably would never want to go back home.
Explore the charming seaside towns while savoring a regional culture, a feast of fresh picked seafood.
You can even get your adrenaline tickled with the amazing and thrilling roller coaster rides of Carowinds an amusement park.
South Carolina is also a paradise for the golfers, as it has more than 25 golf acres and all of them are beyond comparison.
Some of the golf courses are May River Golf Club and The Dunes Golf And Beach Club. South Carolina is also very well recognized for its history, as the chief battle of the civil war took place here.
A lot of famous industries also lie in South Carolina such as agribusiness, manufacturing and technology and automotive industries.
This state offers a number of scenic views including mountains, beaches, gardens, rivers and so much more.
The South Carolina spectacular journey is deeper than just twisting country roads and remarkable scenes.
There are plenty of places to visit in South Carolina, you are sure to find the mysterious and hidden places, you were looking for all along.
Hagood Gristmill and Folklife Center, Pickens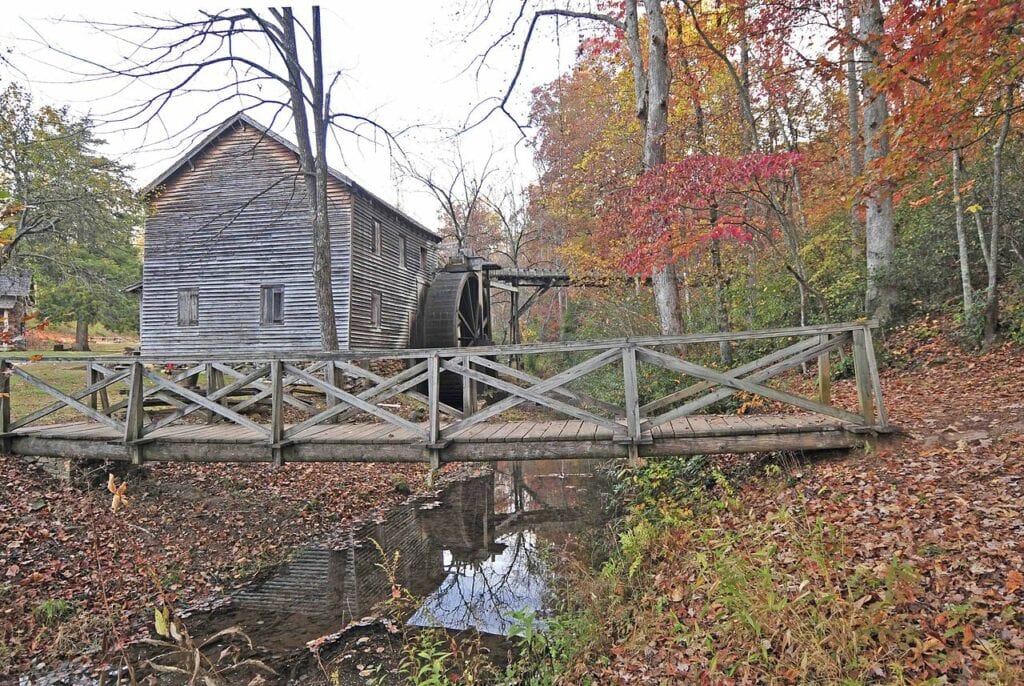 The Hagood Mill Historic Site &Folklife Center is the base of the historic Hagood Gristmill, on the National Register of Historic Places.
It is one of the most primitive known gristmills delivering grain products in this state.
It has the biggest waterwheel made of wood.
It is being developed since 1996 and now highlights the completely working gristmill, conventional shelter with family farm exhibition, a building with gift shops for visitors, a blacksmith store, cotton gin palace, and a massive open-air platform for the musical performances.
The place constantly draws the attention of guests with folklife festival happening there every month.
One of the strongest of the mill is the music and other additional entertainment offered. Many of this region's best musicians have performed at here.
When you enter Hagood Gristmill you will explore the history of the regional times which are somehow forgotten with time.
Address: Hagood Mill Foundation, 138 Hagood Mill Rd, Pickens, SC 29671, USA
Pearl Fryar's Topiary Garden, Bishopville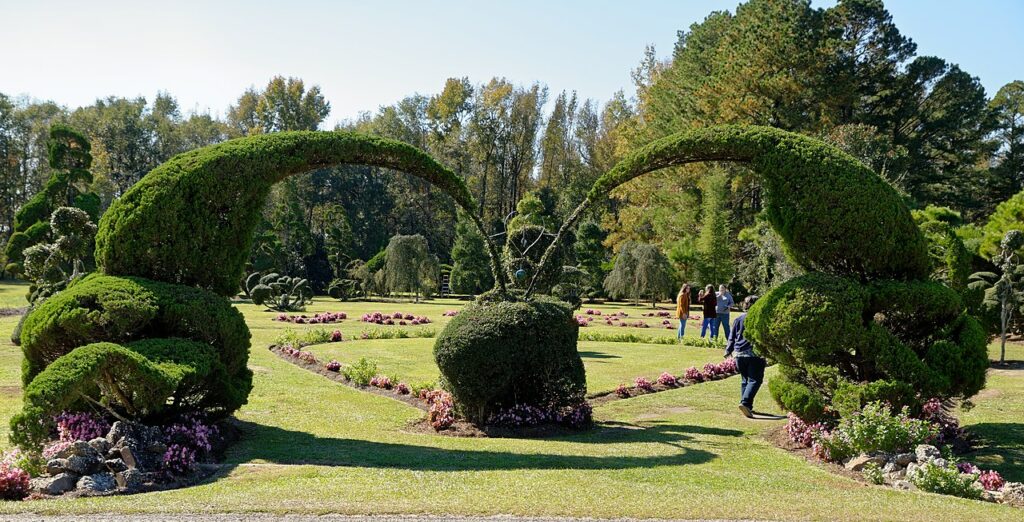 Two acres of carefully modeled plants cover elegant arches, abstract shapes, geometrics, spirals and fantasies, all created by Mr. Pearl Fryar. The garden gained popularity on national and international television and newspapers as well.
You can explore the garden at your pace and sometimes you might find Pearl taking a stroll or working to make his garden better.
Pearl has no background of horticulture or gardening, he is completely self-taught and self-inspired and definitely extremely talented and skilled.
Pearl's garden remains famous because he does not use any pesticides, fertilizers on his plants.
He uses water but very rarely. Still, plants which are not meant to grow under South Carolina's climate are thriving and prospering in his garden with his love and care. He has an over 300 topiaries.
You will also find his homemade junk art in these topiaries. When you take a stroll in his topiaries you will find beautiful coral forests there.
He gives shape to the trees. What he does in the name of gardening is surely an art to be cherished and remembered.
Address: 145 Broad Acres Rd, Bishopville, SC 29010, United States
UFO Welcome Center, Bowman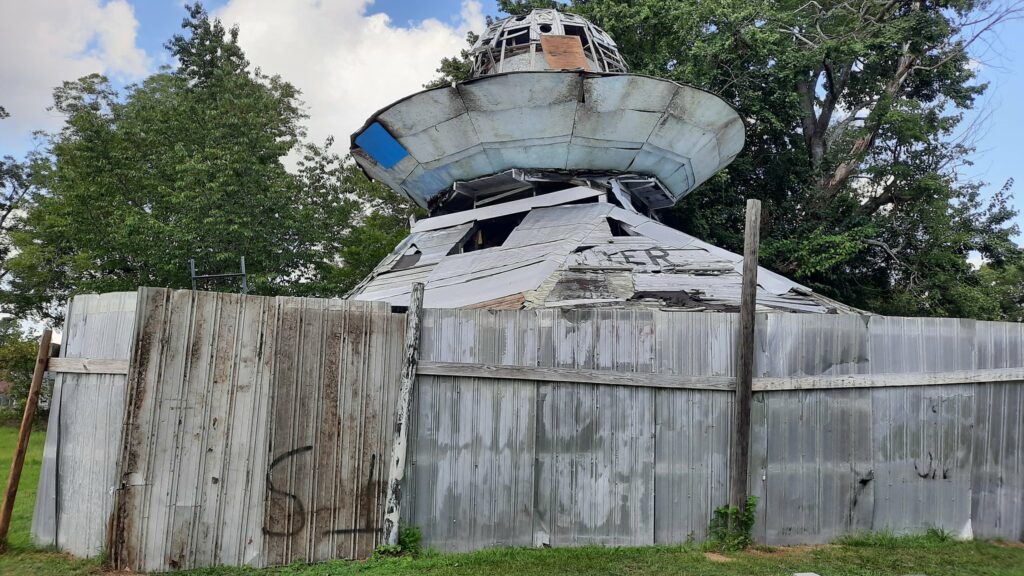 Well if you are in search of strange, weird, mysterious and a place which will give you goosebumps when you think about it, you should definitely pay a visit to this place called UFO Welcome Center by Jody Yard.
It is a UFO which is shaped like a saucer, this place is open to all and welcomes everyone; be that humans or aliens.
Jody started building this in the year 1994, his purpose was to make aliens comfortable meeting humans of the Earth. He made it pretty big, actually s big as a UFO.
This is surely a unique attraction and a must visit for explorers and dreamers.
You will find a lot of electronic parts and litter when you enter this massive ''UFO''.
Though there have been no Alien invasions there, make sure you pay a visit to Jody, who dares to dream.
Address: 4004 Homestead Rd, Bowman, SC 29018, United States
Tunnelvision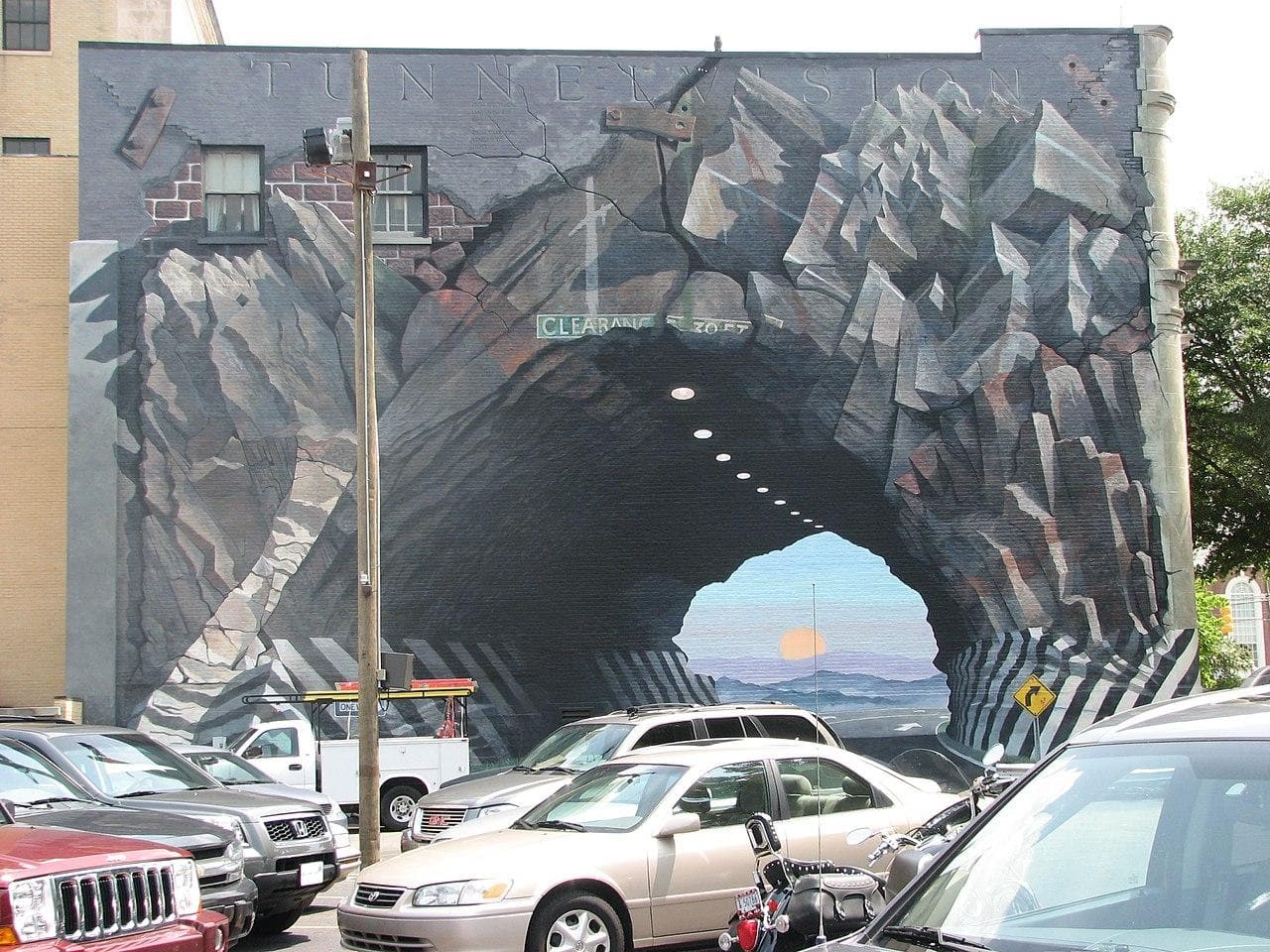 The inspiration for the Tunnel Vision art came from the dream of a talented artist named "Blue Sky" from South Carolina.
This incredible trompe-l'œil style mural was painted on the side of a building in downtown Columbia.
The mural measures 50-by-75 feet and is so realistic that it gives the illusion of a rocky tunnel that you can walk or drive through.
It has captivated many people to the point where they have been tempted to drive through it.
The mural can be found in the Marian Streets parking lot in Columbia and is truly a masterpiece.
If you're looking for a unique outdoor activity in South Carolina, be sure to check it out.
Address: 1550 Marion Street, Columbia, South Carolina, 29201, United States
God's Acre Healing Springs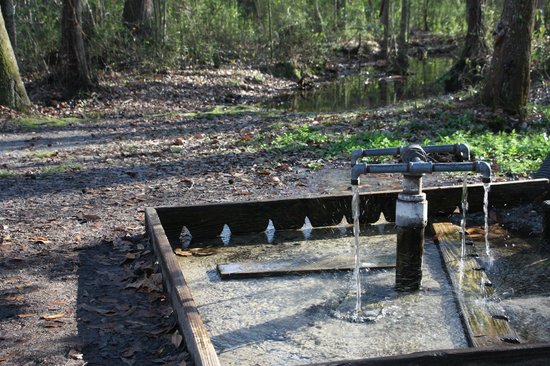 God's Acre Healing Springs, situated in Blackville, South Carolina, is a renowned healing destination that has captivated tourists for numerous years.
The spring earned its name due to the accounts of wounded soldiers who experienced its healing properties during the Revolutionary War in the United States.
This sacred healing spring holds significance to Native Americans, as the legend tells of four severely wounded soldiers who were brought to the spring for healing and subsequently recovered.
As a result, it has become a beloved spot for travellers in search of the spring's therapeutic powers.
The site is accessible 24 hours a day, welcoming visitors to witness the water flowing from the pipe embedded in the ground.
Address: Springs Ct, Blackville, SC 29817, United States
Poinsett Bridge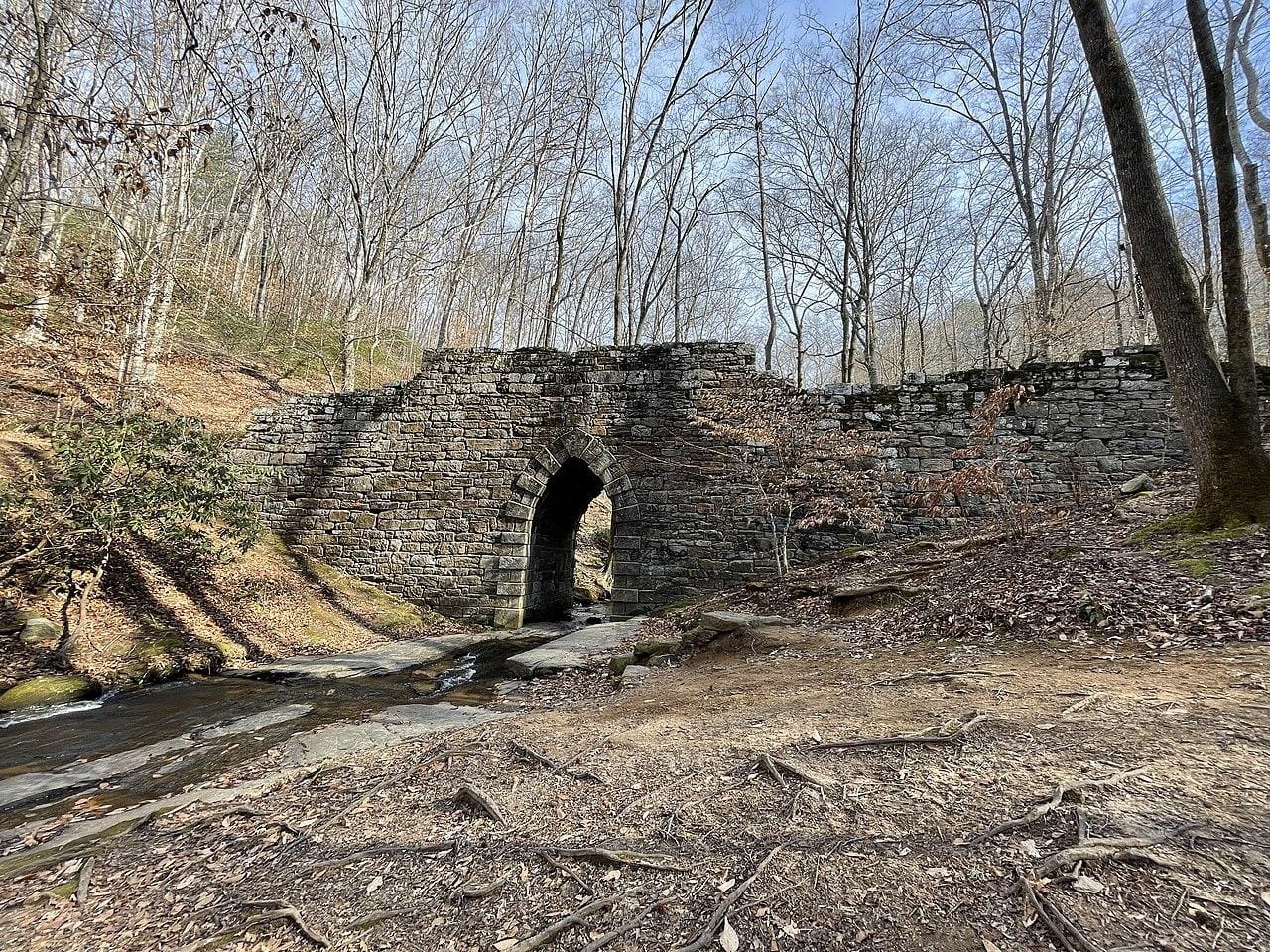 Poinsett Bridge is located in Greenville County, South Carolina and sandwiched in the middle of Spartanburg and Greenville, it is the oldest standing bridge in the state of South Carolina with its gothic arch.
The stone bridge was built in 1820 and served as the main link road between Saluda Mountain and Columbia, it allowed travellers to traverse through Little Gap Creek.
According to historians, Robert Mills was believed to have designed the bridge, he was a renowned architect who worked on the Washington Monument.
Today, the Poinsett Bridge is part of the 120-acre peaceful nature reserve which is a great spot to relax and see the outdoors.
Address: 580 Callahan Mountain Rd, Landrum, SC 29356, United States
Issaqueena Falls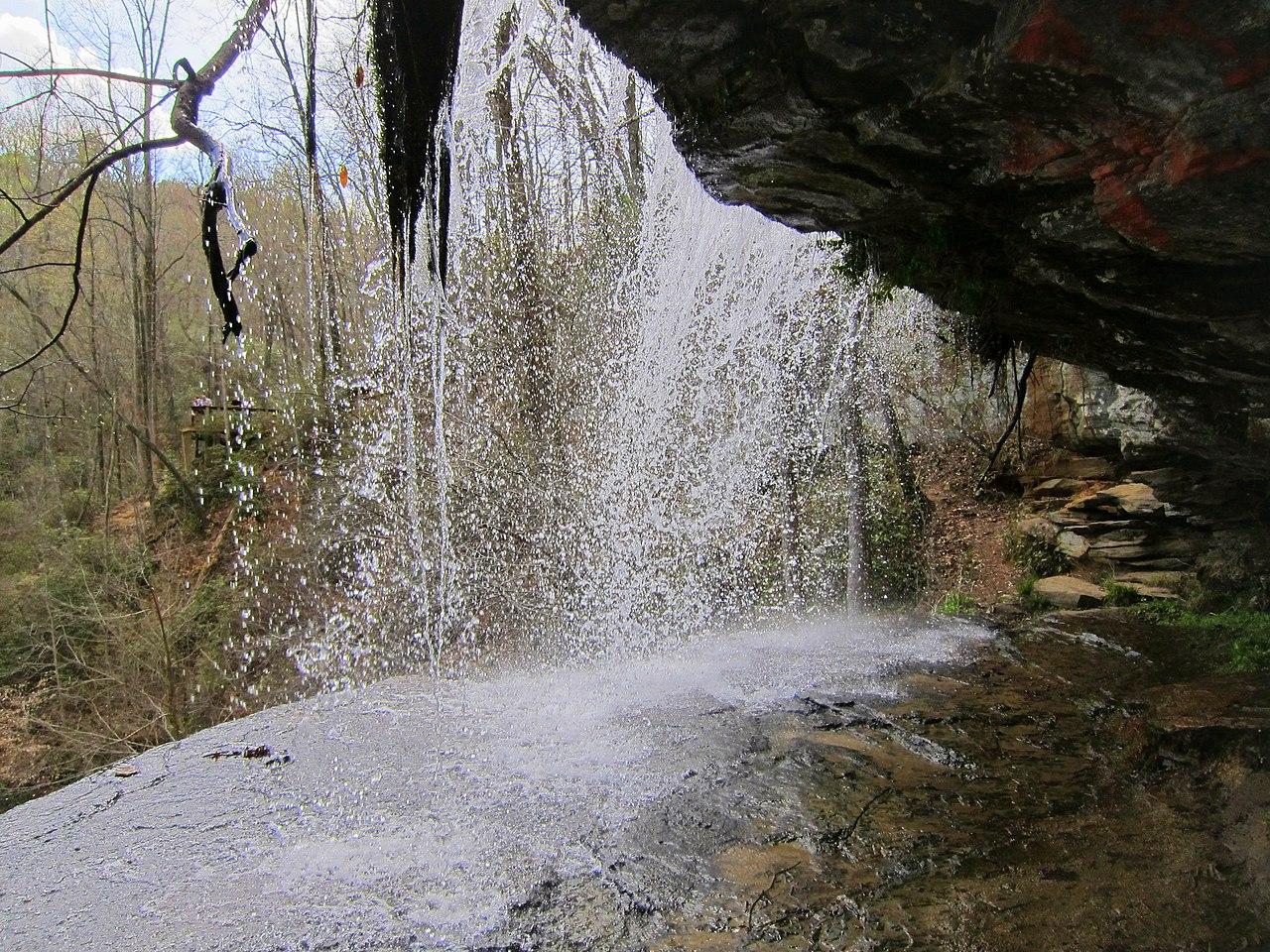 One of the most popular waterfalls in South Carolina is the Issaqueena Falls, it has a heart-stopping 100-foot waterfall with so many stories surrounding it.
Legend has it that the waterfall was named after a Native American girl "Issaqueena" who found out about her tribe's planned attack on a nearby white settlers community based on traditional knowledge.
She rode down to warn the community and, in the process, named all the places she came across such as Six Mile, Twelve Mile, Mile Creek, Eighteen Mile, and the white settler's community known as Ninety-Six.
She hid behind the waterfall after jumping to hide from her tribe who later discovered her betrayal.
The waterfall's rich history makes it a great place to relive Issawueena's life as you explore.
Address: South Carolina 29691, United States
Old Sheldon Church Ruins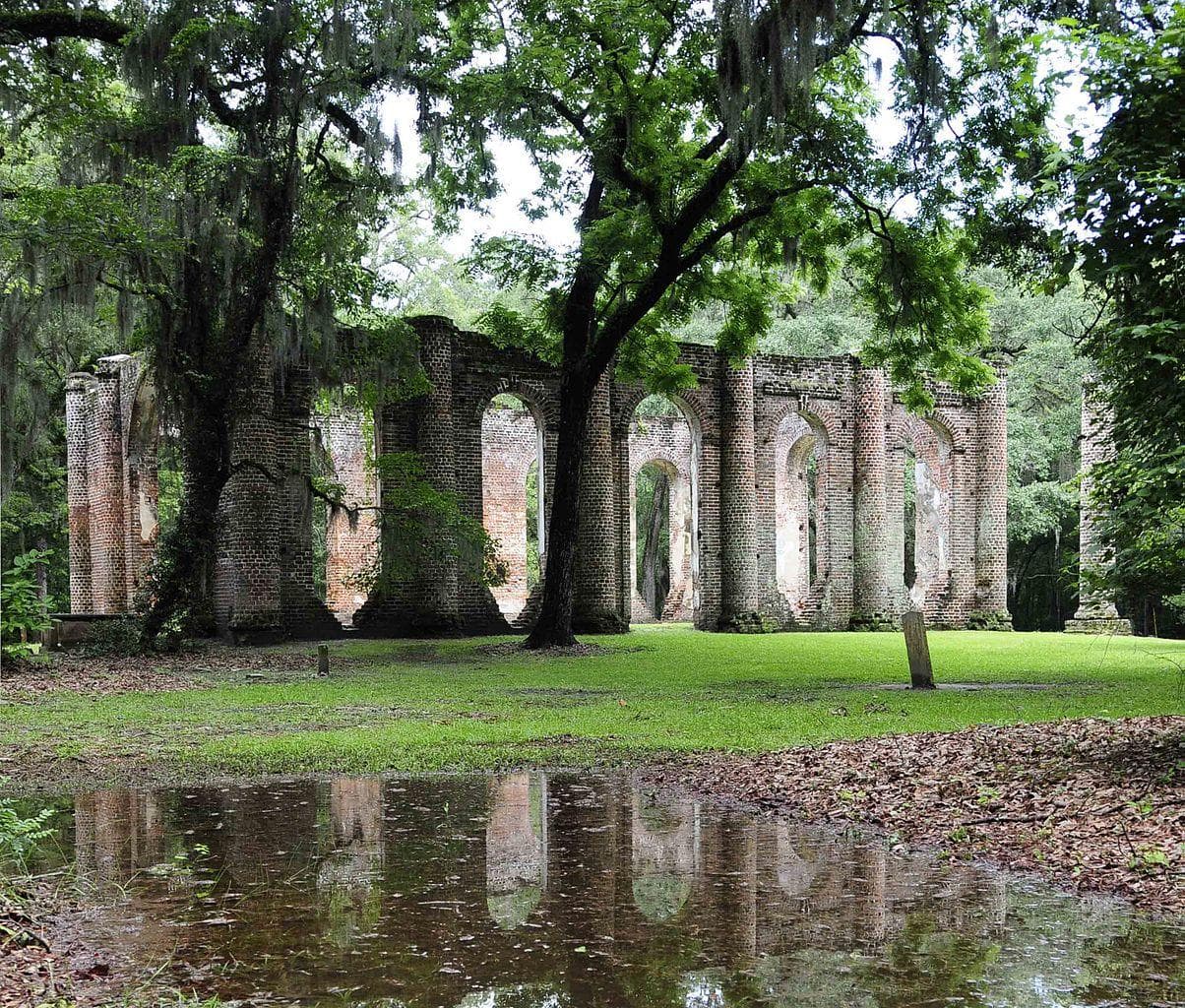 South Carolina has a lot of outdoor activities and one such place is the Old Sheldon Church Ruins.
The church was built in the 1700s and served as Prince Williams' Parish Church back in the 17th century.
It experienced some damage during the Revolutionary War by the British and the remnants of the building were abandoned until it was rebuilt in 1826.
It was torched again by General Sherman and his troops who thought it was best for the building to maintain its deserted status.
Today, the Church ruins remain the way it was but covered in stunning oak trees and ancient graves.
Address: Old Sheldon Church Rd, Yemassee, SC 29945, United States
Mars Bluff Atomic Bomb Impact Crater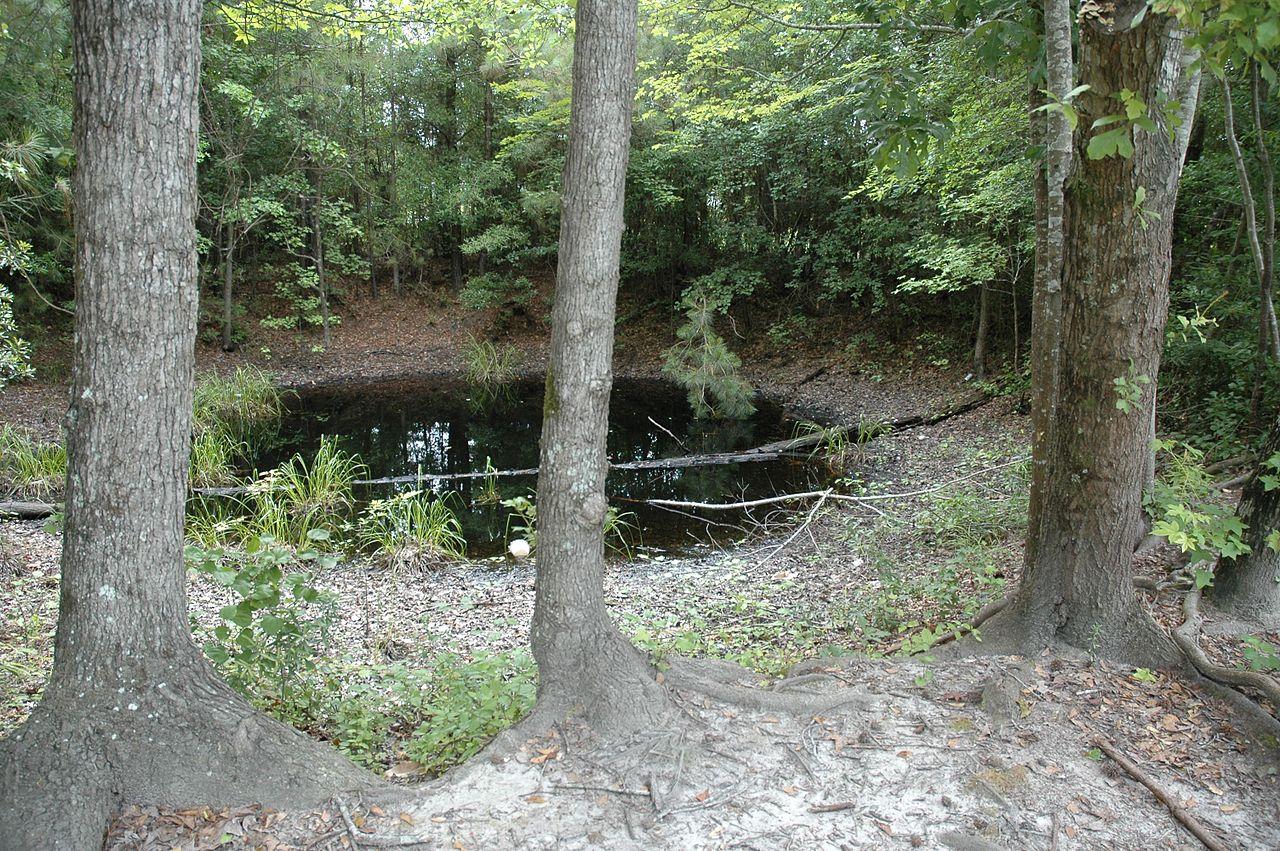 America had it tough back in the 50s to keep their nuclear bombs safe during midair transportation.
A lot of their nuclear bombs fell from the sky and dropped on American soil unintentionally, some were never found.
In 1954, Walter Gregg's Garden in Horry County, South Carolina experienced a Mark 6 bomb which was mistakenly dropped by the B-47 while on the way to deliver the bomb to the UK's "Operation Snow Furry".
It created the Mars Bluff Crater and thankfully there were no casualties Gregg was paid $54,000 to rebuild and he also became friends with the B-47 pilots.
Address: South Carolina 29506, USA
Stumphouse Mountain Tunnel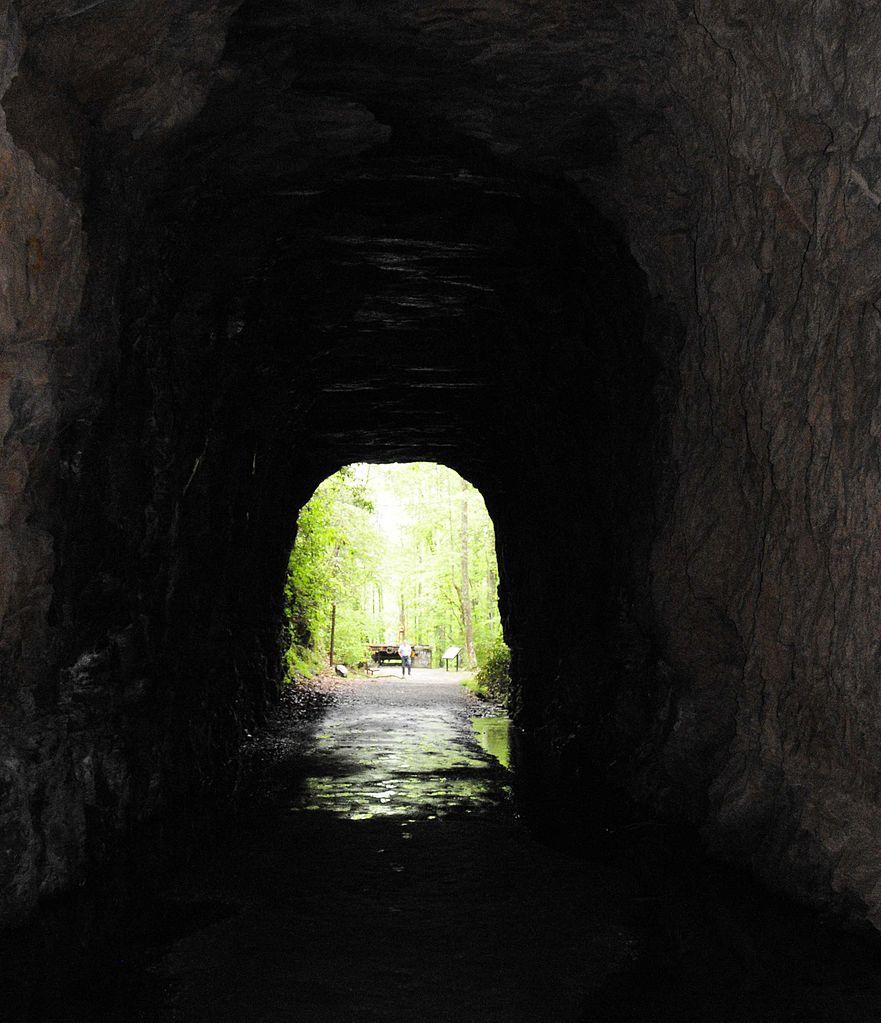 Stumphouse Tunnel was planned by residents of Charleston as a better and easier way to divert railroad traffic that couldn't cross the Ohio River.
However, the planners at that time didn't know about the high cost of digging tunnels in the 1800s and would go on to spend more than a million dollars.
The government of South Carolina decided to stop the project as they couldn't spend more money on the project.
It was intended to be about 5,863 feet long but it was excavated to an approximate length of 1,700 which is now a public park infested with bats.
Clemson University used the tunnel for blue cheese curing due to its stable temperature.
Address: Stumphouse Tunnel Rd, Walhalla, SC 29691, United States
Never Bust Chain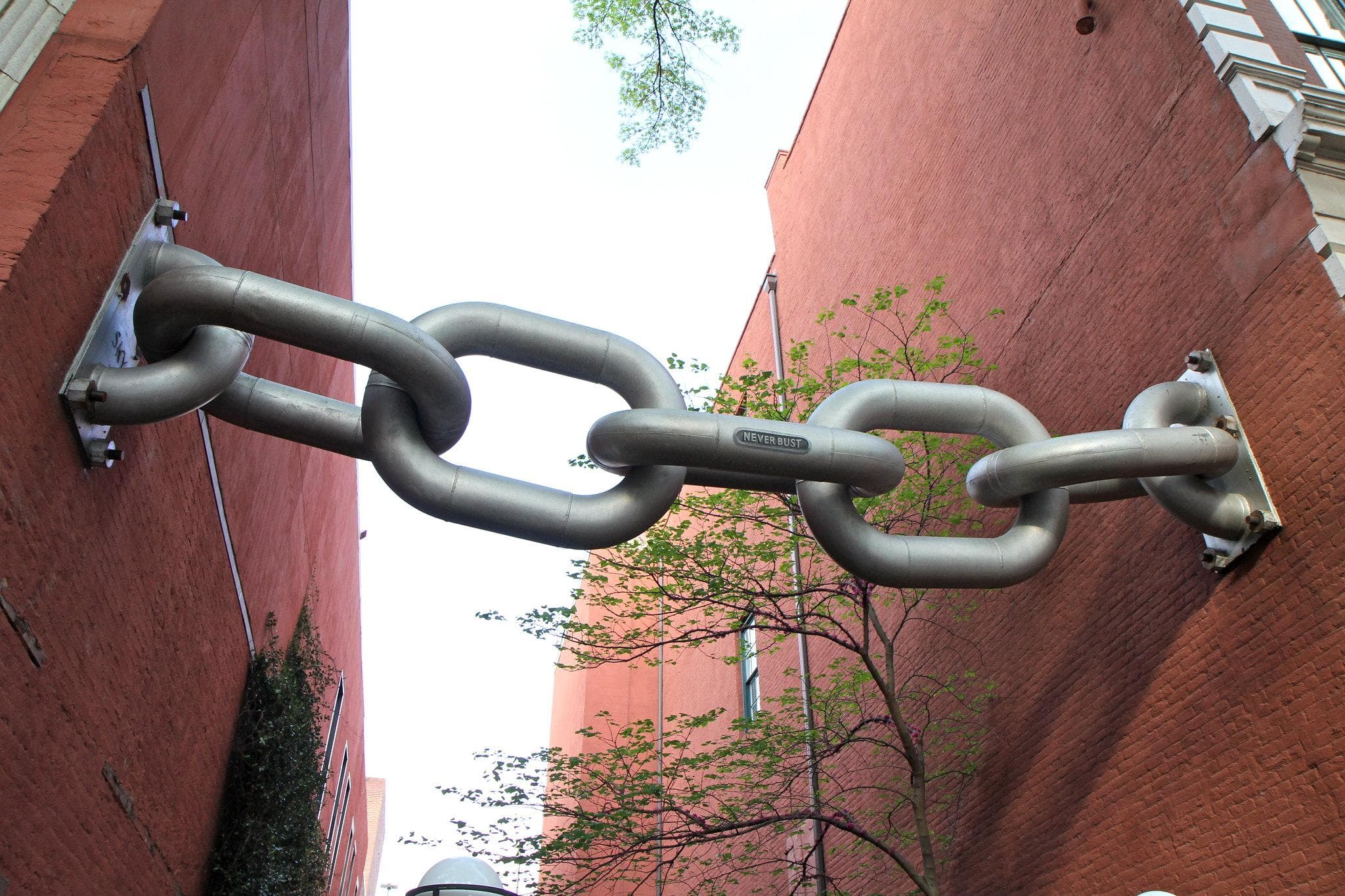 Neverbust Chain is another masterpiece by renowned artist Blue Sky (also known as Warren Edward Johnson), the chain links two massive buildings in a fanciful way.
This piece of art was installed back in the year 2000 in the downtown area of Columbia, South Carolina.
It is part of Blue Sky's permanent artworks such as the Tromp L'oeil or Tunnelvision, Busted Plug Plaza which is known as the world's biggest fire hydrant and many more.
The chain is made of steel and heavy; a 2,000-pound hydraulic pressure was required to complete the link between both buildings.
It is a great spot for nice photos for the gram.
Address: 1502-1508 Main St, Columbia, SC 29201, United States
Peachoid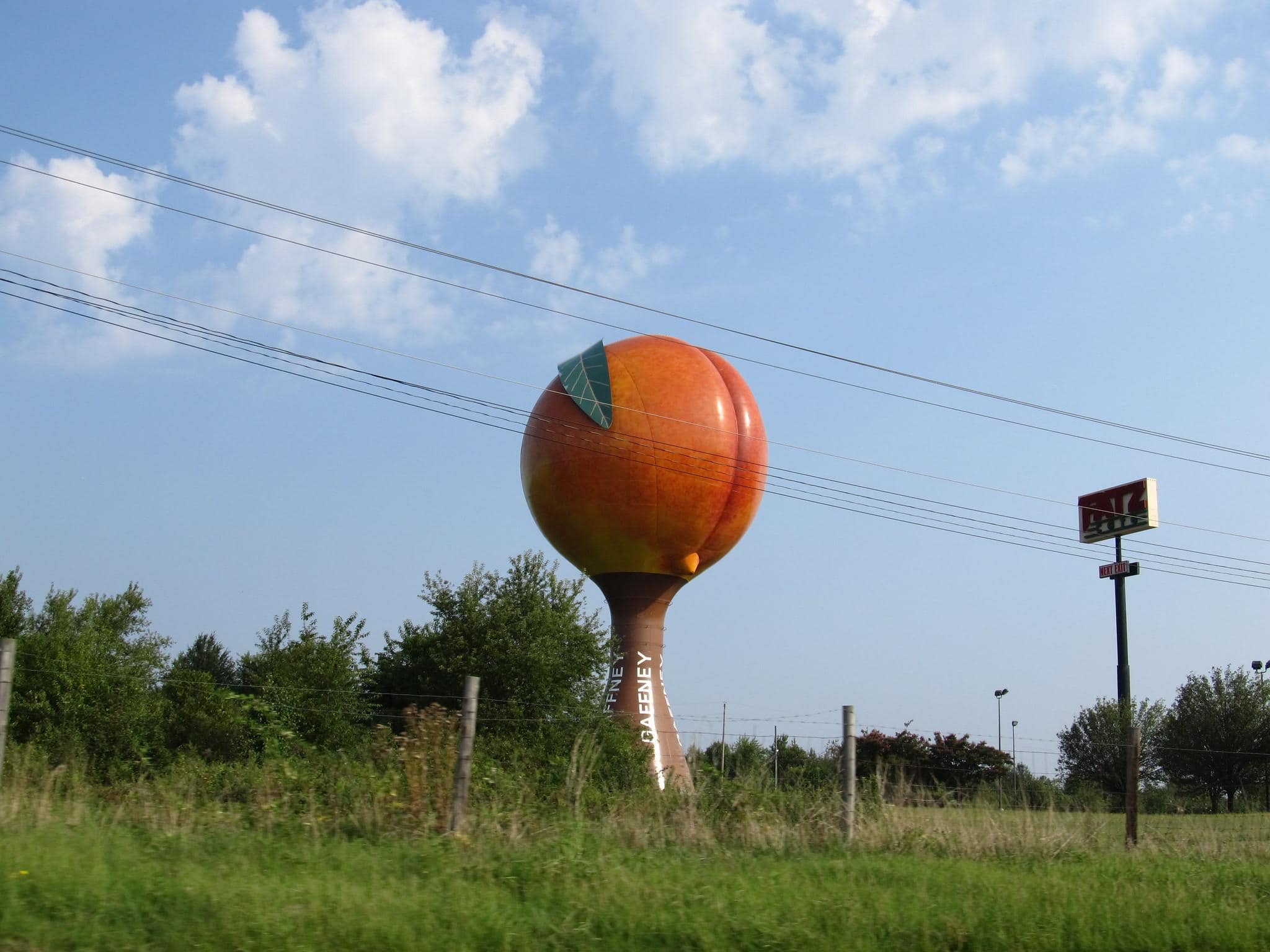 South Carolina is packed with many outdoor attractions to keep you exploring and wandering deep into the American state.
Located in Gaffney, is the Peachoid Tower built in recognition of South Carolina as the world's "peach capital".
It stands at a staggering height of about 135 feet just by Interstate 85.
Due to the abundance of peaches in South Carolina, the giant Peachoid was built in 1981 as a water tower to serve the small community and has since become a top attraction for travellers.
The tower holds over a million gallons of water and it is a sight to behold indeed.
Address: Peachoid Rd, Gaffney, SC 29341, United States
The Mystery Tree, Edisto Beach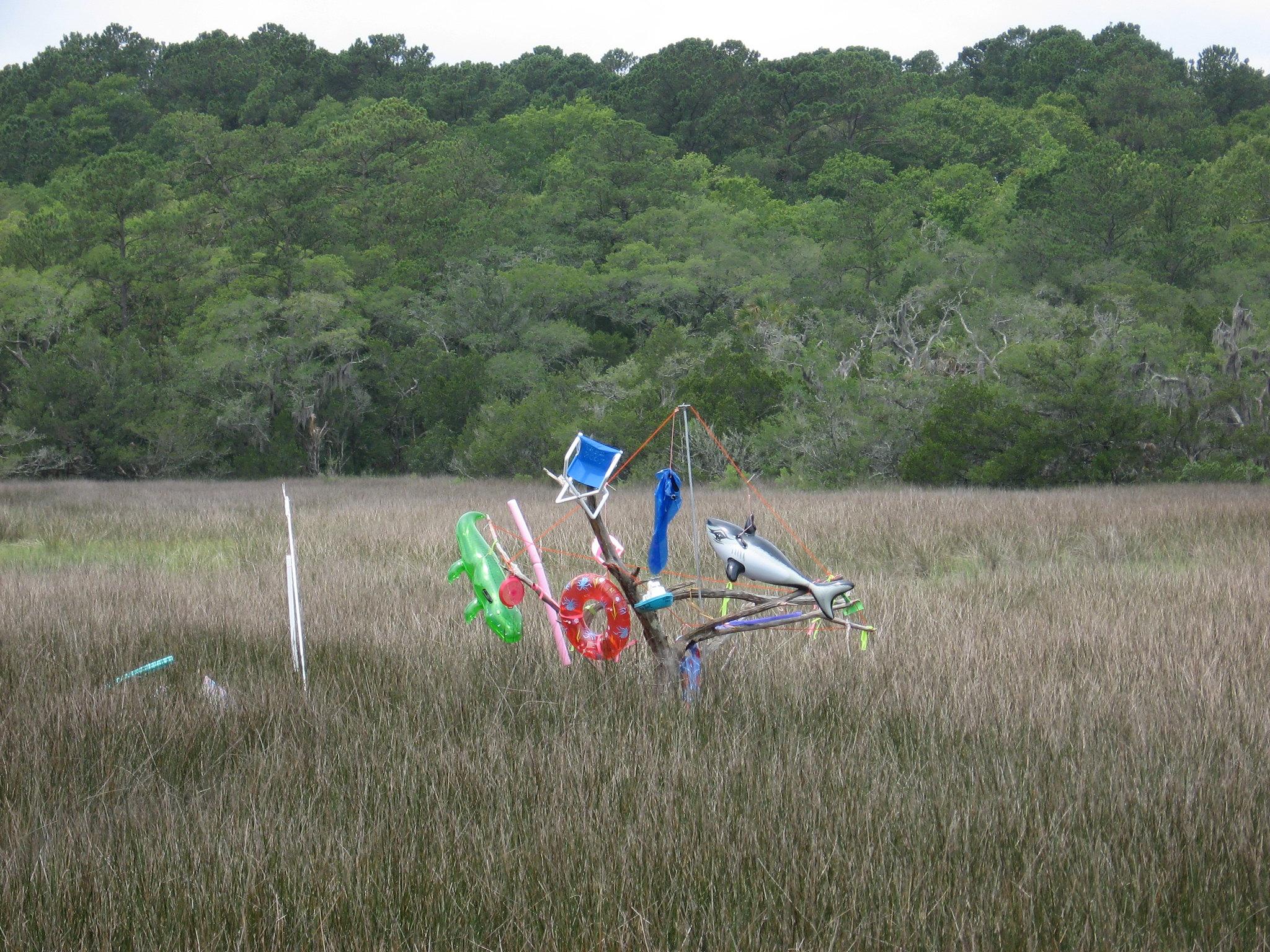 The Mystery Tree of Edisto is located along the drive to Edisto Beach and has been adorned by thousands of travellers and residents.
Everything about this tree is a mystery hence its name, from its bare nature without leaves to its constant festive colour decorations by mysterious people this tree is a must-see in South Carolina.
It is not too far from where Highway 174 crosses with Botany Bay Road.
It is always decorated during Valentine's, Easter, Fourth of July, Christmas, and many more. Make sure to be on the lookout if you are heading to Edisto or Botany Bay for a glimpse.
Address: State Highway 174, Edisto Island, South Carolina, 29438, USA
Guignard Brick Works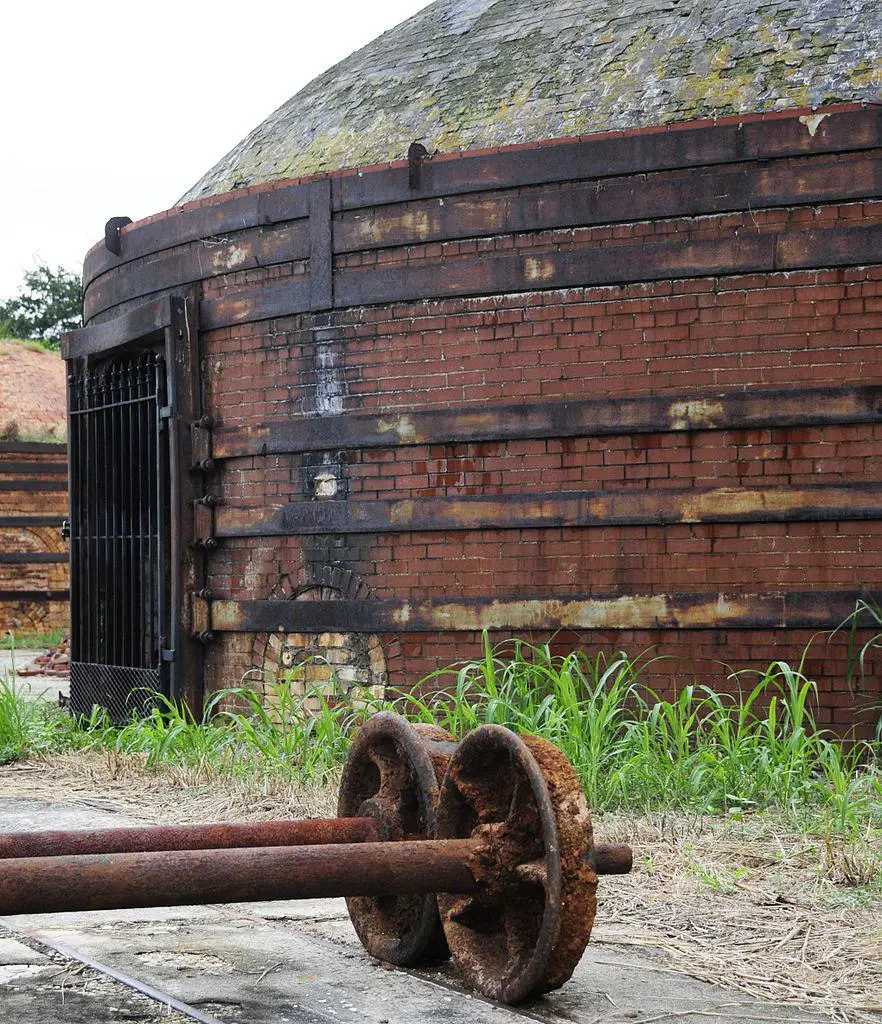 The Guignard Brick Works is a national historic site that can not be forgotten.
The place was developed in 1801 by the Guignard family to produce bricks for buildings all over the state.
It is located in the city of Cayce, South Carolina not too far from the Blossom Street Bridge.
The brick complex was established to make good use of the clay in the Congaree River and it included an office and a transport rail system from its four kilns to other parts of the state.
Spark your curiosity as you explore the brickworks and create memories in South Carolina.
Address: 100 Granby Crossing, Cayce, SC 29033, United States
Atalaya Castle, Pawleys Island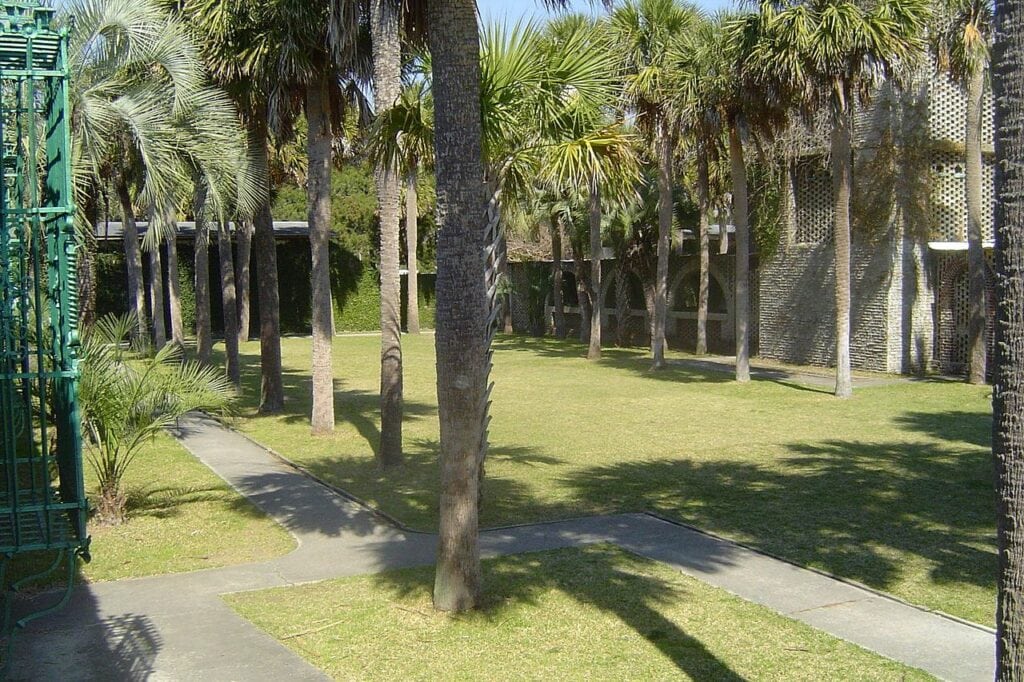 Archer M Huntington and his wife Anna Huntington dreamt about creating Atalaya Castle.
Mr. Huntington's extreme affection for art and his wife being a sculptor; they sure had a keen eye for art and culture.
The pair bestowed the land they had; in the Murrells Inlet region to find Brookgreen Gardens in 1932 as an enormous sculpture garden that highlighted the efforts of Anna Huntington as well as works of other famous sculptors.
The couple later began to build Atalaya, the architecture was made without any noted or drawn plans. This place had become their winter home.
Now Atalaya is one of the most favorite places along the Grand Strand and a popular spot for weddings and social events.
Trips of the castle are accessible through Huntington Beach State Park and if you happen to be in the region during spring, the Atalaya Arts and Crafts Festival entertains scores of skilled sculptors displaying their art.
Address: Atalaya Rd, Murrells Inlet, SC 29576, United States
St. Helena Island, Beaufort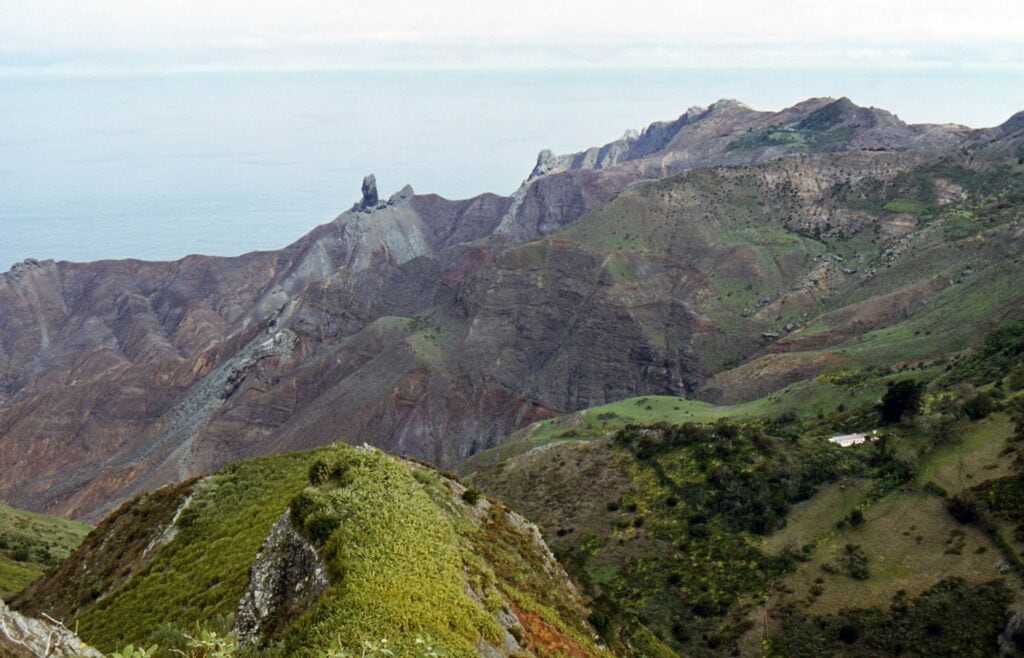 St. Helena Island may not be as famous as other big cities and the coastal places of South Carolina, but its faithful guests would definitely deny that.
A petite and laid-back place, with an engrossing historical background that visitors are welcome to unleash, this gem is sure to make any new guests acknowledge the advantages of a comfortable, slow-paced living by the water.
The island has a exceptionally rich history as a European settlement that a lot of specialists assume is dated in the year 1520, when Spanish explorer Lucas Vázquez de Ayllón visited the region.
Unlike other seaside lands which were originally English settlements, St. Helena Island was first declared by the French, supported by the Spanish, and ultimately the English before the American Revolution.
Guests in the area will positively want to stand by the Penn Center, and the historic Chapel of Ease, the York W. Bailey Museum. Water sports are very popular here such as kayaking and fishing,
Morris Island Lighthouse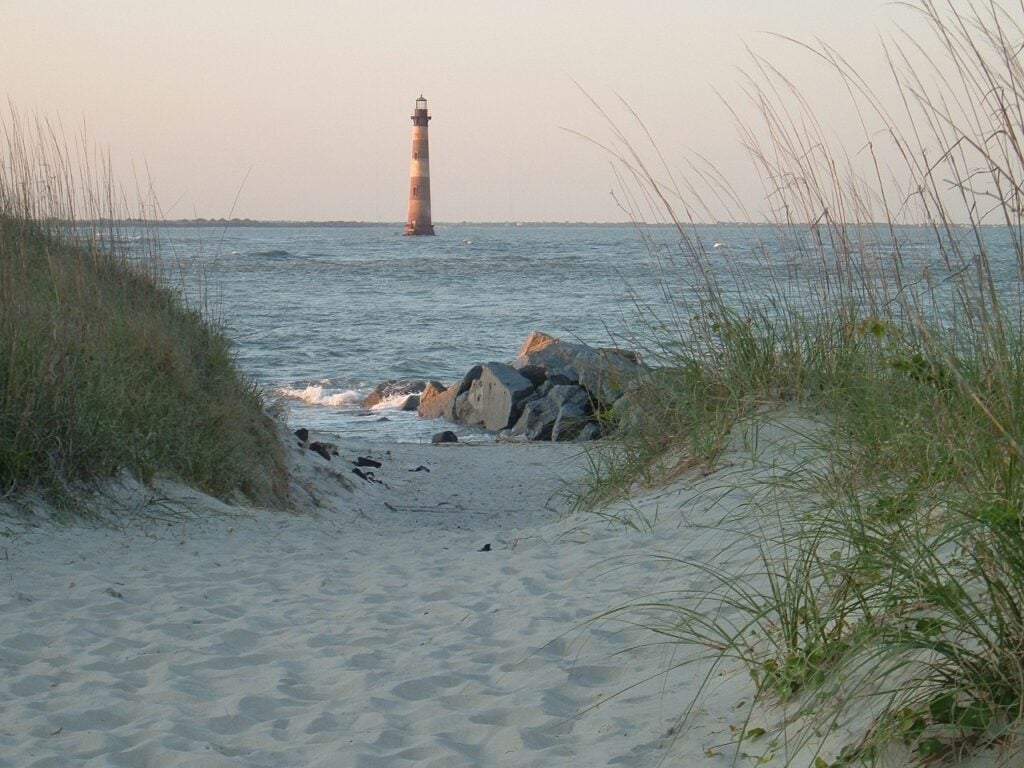 You can visit Morris Island on a bay boat through the fresh breeze and primitive tidal streams to check out the Morris Island lighthouse.
This lighthouse has survived all natural calamities; storms, hurricanes, and earthquakes. This lighthouse was built in 1767 and the original tower got destroyed during the civil war.
Then the tower was rebuilt in 1876, which is 161 ft tall, it has 201 steps. You can reach the top of the lighthouse by climbing all these steps.
It's a tall red and white striped tower, once you land on the island, you will be able to explore the beach for picturesque views and seashells.
Morris Island lighthouse stands tall and strong after facing in numerous struggles; be it man-made or natural. This is a must-visit for history enthusiasts, as it is an epitome in the world of history now.
Address: 1750 E Ashley Ave, Folly Beach, SC 29439, United States
Bluffton, South Carolina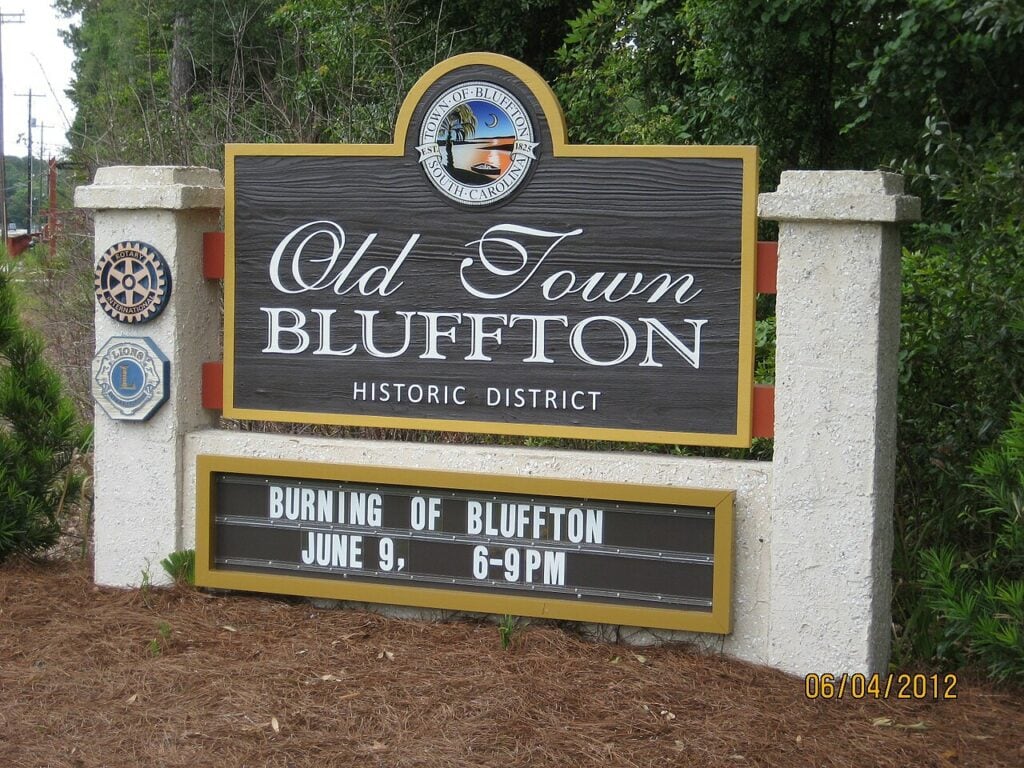 Just moments from Hilton Head Island, right beside the river May, lies the tranquil and serene town of Bluffton, South Carolina.
Packed with impressive homes, historic churches and monuments and all kinds of creative artisans stores excellent eateries, Bluffton is extremely calm and tranquil in nature.
If you are looking for someplace which is going to refresh your mind and give you a feeling of peace Bluffton is the place for you.
The Oak trees here are besieged in green moss and the picturesque view of the May River with the sound of chirping birds give you a beautiful and enchanting feeling of belonging.
If you want to fish or go kayaking with your family, Bluffton can be extremely ideal.
This place is even ideal for small family vacations and if you plan to have a wedding in the middle of nature; you now know where to go!
Hatcher Garden and Woodland Preserve, Spartanburg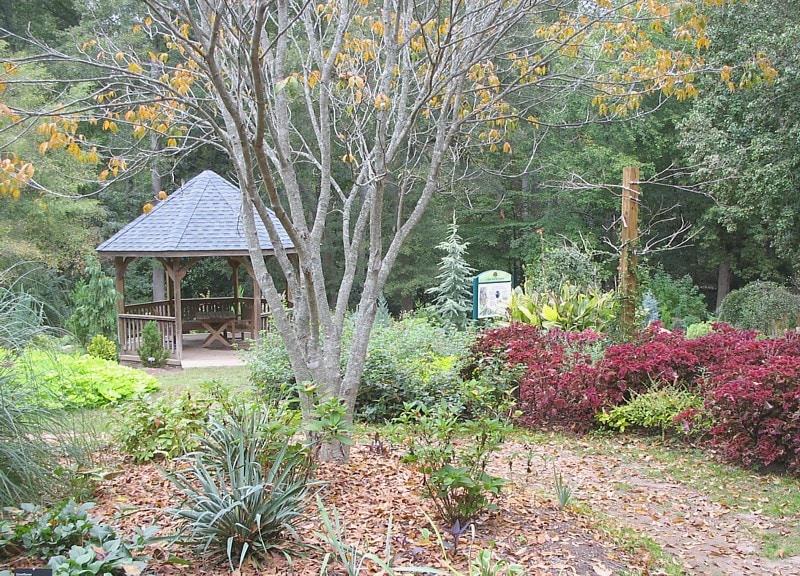 The Hatcher Garden and Woodland Preserve, yet tells us another story of a loving couple who decided to create something beautiful and breathtaking after their retirement.
They moved from Indianapolis, Indiana, in search of a climate which is warmer.
The place they purchased had beautiful pine trees and a river flowing nearby.
These lands were once dumped with garbage and had poor soil type. These problems did not matter to them and they started turning it into a stunning Woodland Preserve.
Their efforts definitely did not go unnoticed and soon they started getting recognition for their amazing hard work. They planted over 10,000 trees to give it a spectacular look.
The Spartanburg garden council could not help but notice their effort; they offered to help in constructing the garden. The garden was officially opened in the year 1980 and soon became a popular tourist spot.
If you are a nature lover and believe in something dreamy and beautiful, Hatcher Garden and Woodland Preserve should definitely top your list when visiting South Carolina.
Mr. Hatcher died in the year 2003 and donated his garden to the Spartanburg garden council.
Address: 832 John B White Sr Blvd, Spartanburg, SC 29306, United States
Conclusion
When visiting South Carolina; you sure want to travel to the beaches and explore the mountains which are beautiful and breathtaking but why would you go home without exploring something unusual.
South Carolina has everything laid out for you, be it beaches, rivers, mountains, gardens and so much more. This place is filled with activities all over.
Kayaking, fishing, surfing and many other sports are extremely popular here. You are ought to fall in love with this state; offering you with so many things.
You have to make sure to plan a long trip when you decide on exploring this state. You will have the nicest time here in this state.
This place is going to be in your memories forever.
If you are visiting with your family and have kids, be prepared to be acknowledged for your decision to visit South Carolina.
Come here for weekends or longer, this place will never fail to surprise you.